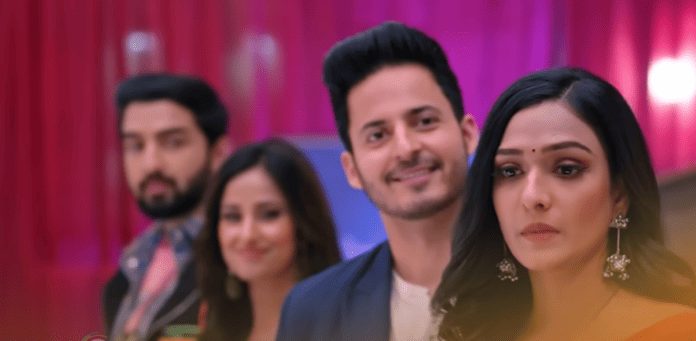 Kyunki Saas Maa Bahu Beti Hoti Hai Upcoming Story, Spoilers, Latest Gossip , Future Story, Latest News and Upcoming Twist on Justshowbiz.net
The episode starts with Jayanthi asking Hetal what is she doing here? Hetal reminds Jayanthi that she comes every Sunday here. Hetal says to Jayanthi and Jinal that they can laugh only now. Hetal says once Kesar gets married to Suraj then they will never be able to laugh? Jayanthi says Suraj is never going to marry Kesar.
Ambica talks with Suraj about her Sankalp. Ambica apologises to Suraj as she kept him away from this house for 20 years. Ambica asks Suraj to only marry Kesar if he really wants it. Suraj says to Ambica that nothing is more important to him than her and says he agrees to this marriage.
Jayanthi thinks Suraj might have a girlfriend. Hetal reminds them that Ambica said that she will accept Kesar as this house daughter-in-law only after taking their opinion.
Ambica asks Suraj to ask his heart? Suraj comes downstairs with Ambica and calls for Kesar. All the family ladies come to the hall.
Suraj shows the diamond bangles that Ambica asked him to make for this house's daughter in law. Suraj says to Kesar that he agrees to this marriage. Suraj puts the bangles in front of God and asks Kesar to put these bangles around her hand when she is ready to do this marriage. Kesar says to Suraj that she also agrees to this marriage. Kesar asks Suraj to put the bangles around her hand. Suraj agrees and puts the bangles on her hand.
Kesar thanks Ambica with tears in her eyes as she adopted Kesar and gave her this big of a family.
Queen calls Kabir and says to Kabir that Suraj has put bangles on Kesar's hand. Kabir asks Queen how does he knows these things. Queen makes a comment on it. Queen says to Kabir that it will be good for him if he brings Kesar to her as quickly as possible. Kabir cuts the call in anger. Shakuntala asks Kabir what is he thinking about? Kabir says he is thinking about Kesar? Shakuntala says Kesar is very lucky as Ambica adopted her. Kabir reminds Shakuntala that Ambica adopted Kesar as that house daughter in law but everyone in that house thinks of how to make Kesar look down and prove her wrong. Kabir also says Suraj is marrying Kesar for his mother, not for Kesar herself. Shakuntala asks Kabir to stop thinking about Kabir and think about himself. Shakuntala says she is looking for a rich household to marry him. Kabir makes a comment and leaves from there.
Leela announces to the family that they should do Suraj and Kesar's engagement tomorrow. Suraj agrees to it.
Hetal reminds Ambica of the word she gave to her family that Kesar will become this house's daughter-in-law only if everyone says yes. Hetal comments on Ambica not taking their opinion for the engagement.
Leela comes and answers Hetal. Leela comments on Hetal always interfering in this house matters even after she left the house. Leela asks Hetal to leave as she already created an argument here. Hetal leaves from there.
Ambica later explains to Jayanthi and Jinal that she hasn't forgotten her word and says they are only doing this engagement so that there will be no gossip in the society and says Kesar will only get married if all of them say yes to this marriage.
Episode ends.