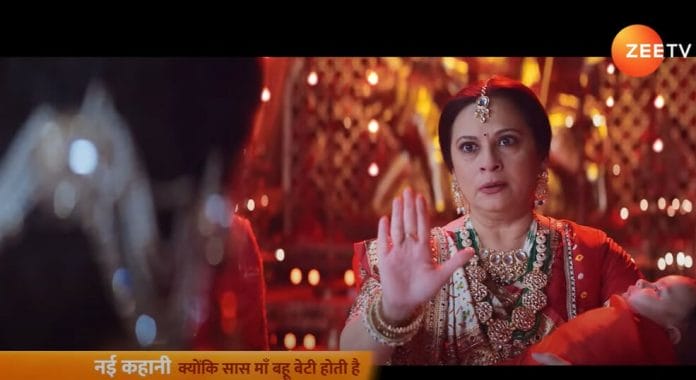 Kyunki Saas Maa Bahu Beti Hoti Hai Upcoming Story, Spoilers, Latest Gossip , Future Story, Latest News and Upcoming Twist on Justshowbiz.net
The episode starts with Ambica asking Suraj to close his eyes and see his future from now after 5 years with Kesar. Kabir dreams of being together with Kesar.
Suraj dreams of all the family members and describes them one by one but he doesn't dream of Kesar. Ambica asks Suraj where is Kesar in his dreams? Suraj says Kesar is also there taking care of her and all the family members. Suraj later leaves from there. Ambica thinks she achieved her Sankalp by giving this house an ideal daughter in law but she couldn't give Suraj a wife and she couldn't give Kesar a husbad. Ambica thinks to herself that she lost.
Kabir's friend asks Kabir why is he looking upset? Kabir says he is upset as he needs to kidnap Kesar before the engagement.
Ambica recalls what happened and gets into a dilemma. Ambica suddenly collapses on the spot. Suraj goes into a shock seeing Ambica collapse. Kabir catches Ambica. Kesar also helps Ambica. Kabir puts Ambica on a table. Kesar says to Kabir that nearby there is a medical college. She asks Kabir to go and bring a doctor from there. Kabir agrees and leaves from there.
Parin says Dr Patel will atleast take an hour to come here. Kesar says they will take Ambica in an ambulance and asks Parin to call for an ambulance.
Kesar slips and falls beside Suraj. Suraj comes out of his shock and shouts for Ambica. Suraj asks what happened to Ambica? Jayanthi says nothing happened to Ambica. Kesar tries to calm down Suraj. Suraj blames Kesar for Ambica's situation and says she shouldn't have said that he is doing this marriage only because of Ambica.
Kabir brings a lady doctor. The lady doctor checks Ambica and says that Ambica got a heart stroke and her heart has been stopped. The lady doctor says they need to admit Ambica in a hospital right away and it will take an hour to take Ambica to a nearby hospital. Kesar recalls about the emergency injection given by Dr Patel for Leela's husband. Kesar takes her hand from Suraj. Kesar comes to Leela's husband room and takes the injection from the drawer.
Kesar comes downstairs and injects the emergency injection to Ambica. Suraj questions Kesar what did she inject to Ambica? Hetal says to Suraj that Kesar only wants to show that she cares for Ambica that's why she injected her with something she doesn't know. Kesar says she injected emergency injection. Kesar asks Suraj to trust her. Suraj says if anything happens to Ambica she will not be in this house. Dr Patel comes and says Kesar did the right thing. Dr Patel says that adrenaline injection was meant for Leela's husband but Kesar did the right thing by injecting it to Ambica. Dr Patel says if Kesar was a few seconds late then anything would have happened to Ambica. Ambica regains heartbeat and calls for Kesar.
Babu calls Kabir and asks Kabir why is it silent? Kabir says it's not that easy to do a kidnap and asks Babu to do the kidnap himself if he feels that it is easy. Babu decides to take action himself.
Shera touches Aarthi's hand while giving the plates. Aarthi understands that these people are not Kabir's friends.
Ambica regains consciousness after awhile. Dr Patel says to Ambica that she is safe all because of Kesar and says until Kesar is here there is no need for a doctor. Dr Patel gives the medicines to Kesar and tells her how to use them and later leaves from there. Leela comments on everyone as everyone scolded Kesar when she didn't do anything wrong. Hetal thinks a nice chance left their hand.
Aarthi calls Kabir and says to Kabir that these people have guns and asks Kabir to come quickly saying she is feeling scared. Kabir decides to really kidnap Kesar to save Aarthi and his friend from those goons.
Kabir tells Machhar and his other friend to turn off the lights when he tells them. Machhar agrees. Kabir's friend distract the security guard and come to the main switch. Kabir sees Babu also came to kidnap Kesar in the darkness as Macchar accidentally falls on turns off the main switch. Kabir asks his friends to turn on the lights to spoil Babu's attempt of kidnapping Kesar.
Episode ends.