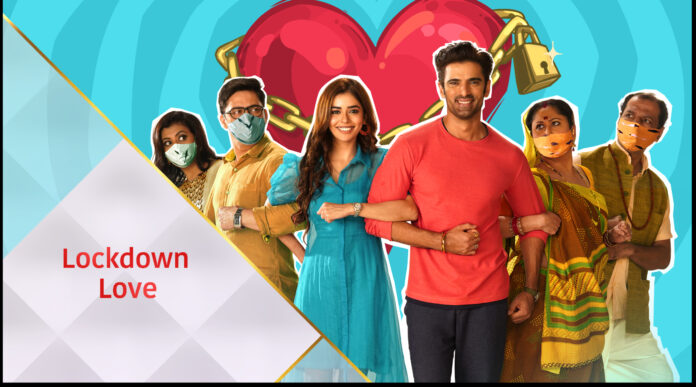 Lockdown Ki Love Story Upcoming Story, Spoilers, Latest Gossip, Future Story, Latest News and Upcoming Twist, on Justhowbiz.net
The episode starts with Shashikant talking to the Doctor in phone call. Nutan comes there with Milk and fruits plate. She asks what the doctor of Lockdown said. Shashikant says Doctor told that he can't say when Dhruv will completely recover. Nutan gets shocked and gets seated. Shashikant consoles her. He tells Dhruv is going to get injected today. He asks her to be strong for Dhruv. Nutan says she will never fall weak when he's with her. Shashikant feeds her fruits.
Sheetal comes to meet Sonam. Sonam asks her to get out. Sheetal says buddy winch shocks Sonam. Sheetal ssks Sonam to think what will happen if Nutan gets to know about Buddy. She shows the photo of Dhruv and Sonam that she clicked in the park. She further tells she has to tell Nutan about it. Sonam says she knows whatever she does is for her own benefits. She asks her to tell what she wants. Sheetal says as she doesn't want the buddy truth come to light, she will not diclose it, but in returns she has to do something for her. She will get the phone call, when the correct time will come. She leaves. Sonam prays to Goddess. She looks at the drawing made by her.
The next morning, at the Jaiswals, doctor has come to give injection to Dhruv. The latter refuses to get injected. He runs around. Nutan tries to convince Dhruv but he runs away. Sonam watches everything through video call. Nutan gets tired. She asks Milky to make Dhruv eat. Just then a man comes there. Sheetal asks Nutan who he's. Nutan tells he's ayurvedic doctor. She has to try all possible ways for Dhruv's recovery. Sheetal agrees with Nutan. She walks away to make a call. Milky brings Dhruv to the dinning table. The doctor gives an oil to Nutan. He asks to apply the oid on Dhruv's head. It will help him in his recovery.
Nutan goes to Dhruv. She tries to apply the oil. Dhruv doesn't like the oil smell. He refuses to apply the oil. He starts running around. Sneha, Ankita, Deeraj, Milky try to catch Dhruv, but he runs away. They all sit tired. Sonam tells Sneha to give the oil to her. Sneha agrees. Sheetal comes back. She takes Nutan to the kitchen to talk. Sheetal tells Nutan about a Tantric who can make Dhruv well, but he's costly. He charges 1 lakh. She tells Shashikant will not agree. Nutan agrees with her. Sheetal thinks in mind ti take advantage of the situation to earn some money.
At the park, Dhruv is swinging on a swing. Sonam comes there. She also swings with him. She takes out the oil. She asks if it smells bad. Dhruv asks from where she got it. He asks her to throw it away. Sonam sees a flower vendor. She gets two roses. She puts one rose in her pocket. She smells the rose and pretends to apply the oil. She tells Dhruv to do thr same and see if it smells bad. Dhruv gets closer to Sonam to smell the rose and then her hair. He says he doesn't smell bad. Sonam pins a rose on his t-shirt. She starts applying oil on his hair.
Sheetal brings Nutan and Milky to the fake Tantric who tells that Dhruv has been mesmerized by a woman. She has to make that woman dring something. Mikly takes Sheetal and asks what's this. Sheetal tells the Tantric is a paid actor and asks her keep quiet. Sheetal persuades Nutan to listen to the Tantric. Nutan phones Sonam. Nutan asks Sonam if she will do as she say to make Dhruv well. Sonam recalls Sheetal's words. She agrees. She asks what she has to do.
The episode ends.
Precap : Dhruv tries to jump from upstairs. Sonam comes there riding a bicycle. Dhruv calls out buddy. He runs and hugs her. Nutan looks shocked. Doctor suggests Sonam to stay with Dhruv for a fast recovery. Dhruv promises to his mom he will have the medecine if Sonam stays with him.