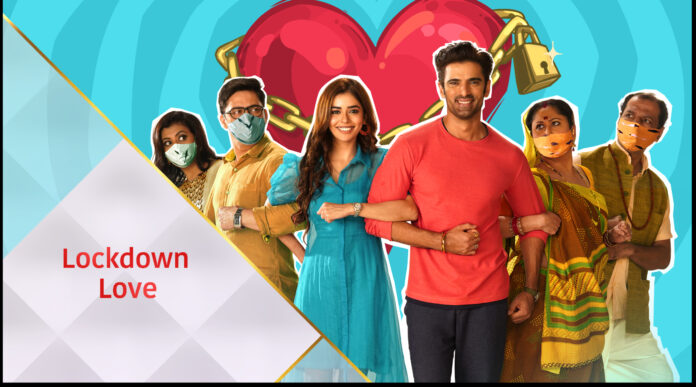 Lockdown Ki Love Story Upcoming Story, Spoilers, Latest Gossip , Future Story, Latest News and Upcoming Twist, on Justhowbiz.net
Episode begins with Nutan is going to and fro in her room thinking about why Raghav does this with Sonam? It was better if Sonam goes back to Mumbai but Raghav spoils all the plans. Pratap comes to talk to her and asks about Sonam. He says to Nutan I made a plan with you so that I can take away my daughter with me. Nutan says I just wanted to make Sonam out of the house. Pratap says we have decided that I will take Sonam back to Mumbai and you will get your son married to your choice of girls. Shubhadra gets to know about the reality of Pratap and she confronts them and says Sonam should know that how her own father is responsible for the mishap that happened on the marriage day.
.Pratap plants behind Subhadra and tries to make her understand that she shouldn't spill out anything in front of Sonam. Subhadra is adamant to tell Sonam about the reality of Pratap but he in a way to stop his wife says that you want to divorce and I am ready to give you that but in return you have to keep mum about the whole matter.
On the other side, Raghav's mother brings jewelries for Sonam to wear for the marriage and says that even if I can understand your state as women but I am unable to help you out in this case. Sonam says to her that the person who can rescue me from this place is coming. At the same time, the double rings and Sonam runs out of the room to check if it is the one she is waiting for.
One of the friend of Raghav opens the door and it was Dhruv in disguise standing at the other steps with two bags in hand. He comes in as a designer and save that I am here to fit the lehenga for the bride so I have to wait and get her check if it is coming fine or not. He also gives a sherwani to Raghav and says I will definitely give you the perfect fitting. He walks out from the place with Sonam for the dress checking. One of the friend brings Sonam to another room and says that you can change here and no one will disturb you. Dhruv pushed that friend inside the room and locked the door so that he cannot come out.
Sonam finally hugs Dhruv as she already understood that it is him who is in the house. Dhruv recalls that how he got to know from the designer that Sonam is looking for that particular marriage lehenga which she wants to wear on her marriage day. The designer informed Dhruv when he got to know that Sonam is missing. Shashikant also handed over a girl to prove and said if required don't hesitate to pull the trigger. Raghav is getting ready in the marriage dress of him and asking his friend if he is looking good when the other friends of Dhruv have come inside the house and slowly making the friends of Raghav unconscious.
Dhruv comes at the marriage dias area with Sonam and put his gun on Raghav. Log of finally gets to know that it is true who comes inside the house as a designer and Sonam is also with him. you says to Raghav that I told you to stay away from my matters and not to take the name of Sonam with your dirty mouth. Shashikant which is the house of Shobhakant with police forces and ask them to arrest Raghav on the spot. Raghav is about to shoot but Sonam stops him and get hold of him and takes him under his control.
The policemen came at Dhruv says to arrest Raghav and Raghav reveals in front of all that he did everything to to reunite his brother and sister in law who are going away from each other. However, Dhruv is not ready to believe his words but Raghav says that I did everything and made this plan so that you can realise your love for her. He says I am a sentimental person and when I saw that you are not listening to and not even bring attention to whatever she wants to say I feel bad and thought to make out such a plan so that I can help you both.
Precap – Dhruv and Sonam comes inside the house together. Nutan say that I am getting worried for you it is good that you are back. Dhruv as his mother not to do anymore drama in front of him and plays the video clip in front of all in a house.