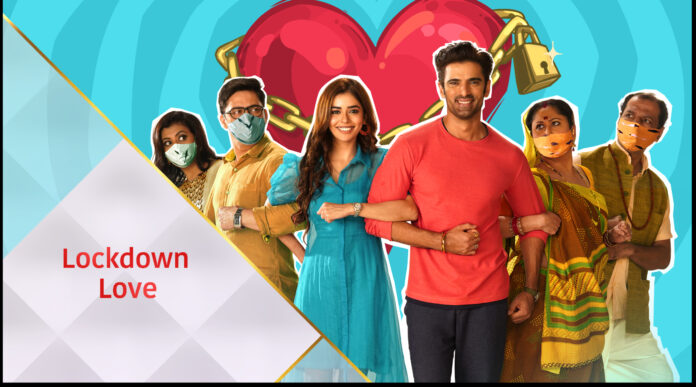 Lockdown Ki Love Story Upcoming Story, Spoilers, Latest Gossip, Future Story, Latest News and Upcoming Twist, on Justhowbiz.net
Today's episode of Lockdown Ki Love Story starts with Dhruv and Sonam did complete rest of photoshoot. Then everyone was busy in watching clicked photos, and Dhruv takes Sonam to terrace.
And then said that now she have to praise him for his fashion sense as she lost the challenge. Then Sonam praises him, then Dhruv said now boy gets sold, then Sonam asks that what you mean by boy gets sold?
Then Dhruv clarifies that in Prayagraj in every marriage boy's family takes huge dowry price, that's why when wedding rituals started we called it as boy gets sold. Then Sonam said, Ooh but you didn't get anything from my family, then Dhruv said it's good that we didn't take because it's crime.
By the way what's your price? Sonam asked, then Dhruv said Amma- Babuji does take away approximately 20- 25 lakhs for me with four wheeler. Then scene shifted and Amma also said the same that approximately 20 to 25 lakhs anybody would give for our Dhruv.
But as it is pandemic situation, so you will give as your wish, then Shubhadra said means you're dealing with me for my daughter respect and happiness here. Then Amma said don't take me wrong but it's only a tradition so I told you about that rest as your wish. I am giving you the time of till morning, if you're ready then will come on terrace by 9:30, and give saree.
Scene shifted to Dhruv and Sonam, Sonam said that I will give 20 to 25 lakhs by my earnings so Amma Babuji will not think that they gets nothing from you.
Then Dhruv it's doesn't matter as I got you and you are priceless. Scene shifted Buaji gets happy with Amma step and said that you was amazing you demands dowry from them if brother get to know he will kill you.
Then Amma said I don't want any dowry or not I am a greedy but only for cancel this marriage I did this. As they are big cities people so I know they will never fulfill this demand and will thinks that I am greedy for dowry so they will surely cancel the marriage. In morning Babuji romantically teases Amma while choosing clothes for photoshoot, but as clock came to 9:30.
Amma made excuse and goes from there with Buaji, on terrace Amma and Buaji thoughts that Shubhdra will not come but she came and said to come bank with her, for withdrawal money 15 lakhs for now. As she can't ask Pratap for this by this Amma gets upset that why Shubhdra got agree for this. But Buaji insists Amma that she should take money as rent but Amma said if I take then we have to make Sonam our daughter in law, and I don't want this.
On the other side Sonam examine everyone's costumes for photoshoot and didn't got anyone costume ok, other than Tanu. So she gave 10 mins more time to choose costumes wisely.
Later in room Dhruv promisses Sonam that he will take whole Prayagraj in home, as he promises that photoshoot be happen in Prayagraj, then Sonam said you are doing "Bakketi" now then both starts cutely fight by seeing this Shubhadra said I will do anything for your happiness Sonam. Later everyone did ramp walk with different costumes and Sonam rate them, and Amma came from bank secretly.
Precap- A bag fell from Amma hand so the money get revealed to everyone Babuji scolds Amma for taking dowry, Dhruv also said I didn't expect this from you Amma.