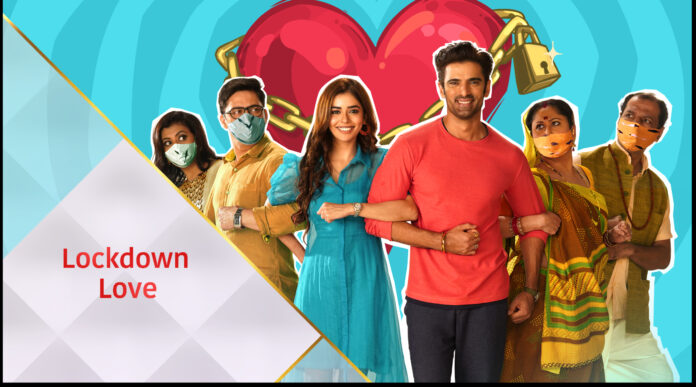 Lockdown Ki Love Story Upcoming Story, Spoilers, Latest Gossip , Future Story, Latest News and Upcoming Twist, on Justhowbiz.net
Sonam shoots the video of kidnappers, Dhruv is coming down to check on Sonam, Milky stops him saying she will check as she fears if Dhruv will get close to Sonam in intoxicated state. Sonam wonders why Milky is coming down in place of Dhruv. Kidnappers mistake Milky to be Sonam and makes her unconscious. They put Milky in box and take her away. Dhruv mumbles in sleep that Sonam went to Mumbai and Milky went out of room. Sonam calls Bablu and says Milky got kidnapped in her place.
She asks them to save Milky, or she will say everything to family or atleast Dhruv so that Dhruv can save Milky. Bablu says he knows the people who kidnapped, he will bring back Milky safely. Sonam feels Dhruv did a huge mistake, he used to promise of her safety and now he put her in danger.
Hulchul asks Bablu how can they fight Bhavani, Bablu says everything need not be done by fighting, they sent Sonam bhabhi to Jaiswal house by acting, now they have to act again. They disguise as police and stop kidnappers car. They ask where are they going in night, driver says to deliver masks, sanitizers. Bablu points fake gun at driver and checks the car, kidnappers run away.
Bablu calls Milky's mother and says they kidnapped Milky. Bablu says they will release Milky safely if she reveals the truth behind Milky, Dhruv's marriage. Milky's mother says everyone knows the truth, Milky got her love by so much difficulty and requests Bablu to leave Milky. Bablu gives time till afternoon to reveal truth, he warns her not to tell anyone of kidnapping. Bablu, Hulchul think Sonam bhabhi's work will be done by this.
Nutan calls for Milky, Sheetal says they might me sleeping as they consumed Bhang yesterday. They talk loudly to make Sonam jealous. Dhruv comes down and asks for tea. Sonam says she also wants tea. Dhruv is shocked to see Sonam. He asks if she is here, Sonam asks where is she supposed to be there.
Nutan asks Dhruv where is Milky, he says he doesn't know, she is not in room. Everyone check for Milky but she is not found. Shashikant says may be she might have gone to her mother's house. Door bell rings and Milky's mother came, Nutan asks if Milky is with her, she says No. Dhruv thinks Milky didn't come back to room after going down, he wonders if she got kidnapped in Sonam's place.
Precap: Dhruv searches for Milky, Milky's mother sees time and remembers kidnapper's words to tell the truth why Milky was in Sonam's place in wedding. She thinks to call everyone and reveal the truth.