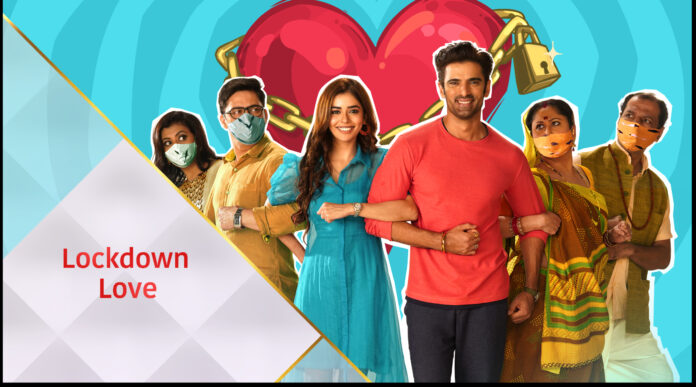 Lockdown Ki Love Story Upcoming Story, Spoilers, Latest Gossip , Future Story, Latest News and Upcoming Twist, on Justhowbiz.net
Today's episode of Lockdown Ki Love Story starts with Sonam said to Milky that your name is so interesting, on this Milky said in childhood because of my skin colour. Dhruv starts me to call Milky then later slowly-slowly everyone starts me call Milky, even in class everyone was call us as pole (dhruv) star and milky way. Then Milky said ok then now I am going as I only came to take back my father's inhaler. But Amma stops her by saying that please stay you will sing folk songs during Haldi. Then Dhruv also said her to stay, so she stay there.

Everyone started applying Haldi on Dhruv and Sonam, Milky also apply Haldi on Dhruv with heavy heart. Ahead, Sonam also apply Haldi on Dhruv, then Dhruv also to her. Then them both started playing Holi with Haldi, Amber announce to video call relatives that Haldi ceremony is turned out as Holi, there is Holi is happening with Haldi in between of this Sneha also applied Haldi on Amber from backward.
Buaji sees Pratap tensed so she gets a idea to joined hands with him for breaking Dhruv and Sonam Marriage. So she went to Amma and started convincing her by saying. Sister in law I am so upset then Amma asked why? On that Buaji said see Milky is so sweet she knows our traditional very well and she just like us so what if Dhruv marry Milky instead of Sonam?
On that Amma said but can't be happen now because I promised to Dhruv that's why now we have to be satisfied in what we had. On this Buaji said you promised but I didn't, then Amma asked means? Then scene changed on terrace Pratap was blaming his and Sonam's luck. Because his plan didn't success, only then Amma and Buaji came and asked Pratap why he is so tensed? Is this because your wife was get sick suddenly.
Pratap said no it's used to happen, on this Buaji said we were got in that much worry after Shubhadra ji sudden illness and you are saying it's used to happen. Later, after some quellers and all Amma and Pratap joined hands to break Sonam and Dhruv wedding and to fix Dhruv wedding with Milky. So as according to plan Buaji went to Milky and convinced her to stay there in their home. And assures her that she will arrange her wedding with Dhruv as she knows how much she loves Dhruv.

Precap- Amma got upset and said all wedding rituals are keep happening one by one there is Mehndi now in sometime how we will stop wedding? On this Buaji pacify her and said in hall everyone will put mehndi on Sonam and we will put mehndi on Milky our real would be daughter in law, then Amma and Buaji starts applying mehndi as same as Sonam's.