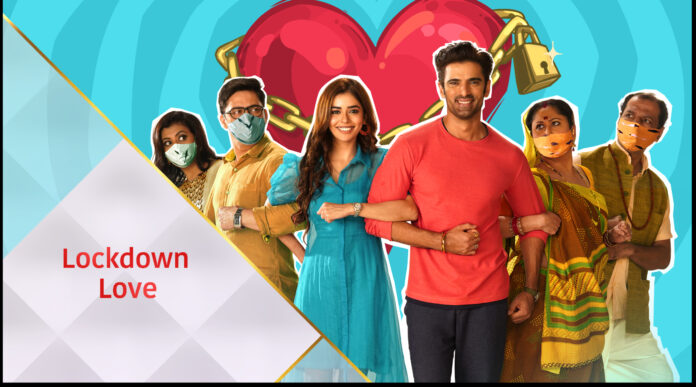 Lockdown Ki Love Story Upcoming Story, Spoilers, Latest Gossip, Future Story, Latest News and Upcoming Twist, on Justhowbiz.net
The episode starts with Nutan asking Sonam if she will listen to her to make Dhruv well. Sonam agrees. She asks what she has to do. Nutan, Sheetal and Milky bring Dhruv to the Tantric. Dhruv gets scared. Nutan assures him. Sonam comes there. Dhruv smiles seeing Sonam He walks to her. Nutan asks the tantric to start the puja. Nutan asks Sonam to come and sit. Sonam starts coughing and crying due to somke. Dhruv shouts at tantric. He calls him fake. He wipes Sonam's tears. Tantric asks Nutan to feed sweet to Sonam. Dhruv takes the sweet and puts it in Milky's mouth. He starts beating the tantric.
Sonam tells Sheetal to ask Milky to act as Mata came on her before Nutan gets to know he's a fake tantric. She threatens Sheetal showing a video where Sheetal gives money to the actor. Sheetal asks Milky to act. She does so. The tantric runs away. Nutan cries. Sonam tells Nutan she was fooled by the tantric. She asks to have faith on herself and doctor. Shashikant phones Nutan. He asks her to come home with Dhruv, it's time for Dhruv's injection.
At the Jaiswals, Dhruv refuses to take the injection. He breaks the things. He runs upstairs. He threatens to jump. Sonam comes there riding cycle. Dhruv comes downstairs calling out buddy. He hugs her. Nutan looks shocked. Dhruv says his buddy doesn't make him fool like them. Sonam tells she thought he's very brave and doesn't get scared to take injection. She tells she can take five injections if he tells. Dhruv says he will also take five injections. He agrees to take injection. He says he's very brave. Doctor gives the injection. Doctor praises Sonam. He asks who she's. Sonam says Dhruv needs a friend so she has become a kid for Dhruv.
Doctor tells it's better that Sonam stays with Dhruv for his fast recovery. Dhruv promises that he will take the medicine on time if Sonam stays with him. Sneha, Dhruv and Sonam request Nutan to agree. Nutan scolds Sonam. She says inspite of her warning she took control of Dhruv becoming his buddy. She doesn't need to stay here. His mom is still alive to handle and make him well. She asks her to get out.
Shashikant tries to convince Nutan who refuses to have food. Sonam saves the dia from turning off. Dhruv is thinking about Sonam holding the rose. The next morning, Sonam gets ready to meet Dhruv. Subhadra asks her to think again if she wants to go back. Sonam says she's staying here to make Dhruv well. Nutan is right in her place. She lets her meet Dhruv or not but she will go to meet Dhruv. She's about to leave Partap comes there. Sheetal finds Milky doing calculations. Milky tells if Dhruv doesn't get well, she will leave taking all the money. Sheetal asks to give 50% of share.
Dhruv wants to meet Sonam but Nutan refuses. Dhruv gets upset. Shashikant says he will take him out to boost his mood. He assures he will take care that Sonam doesn't come near him. Nutan agrees. She asks Sneha to say as she wants to talk to her.
Pratap scolds Sonam. He says she's not going anywhere. They're leaving for Mumbai right now leaving behind everything.
The episode ends.
Precap : Dhruv pushes Pratab. Pratab gets hurt. Pratap brings ward boys to take Dhruv to a mental hospital. They take Dhruv with them.