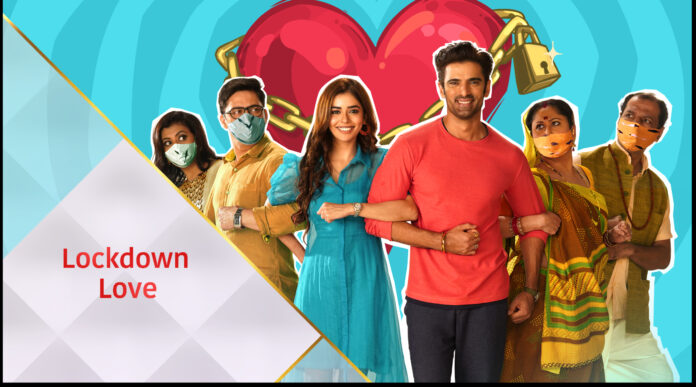 Lockdown Ki Love Story Upcoming Story, Spoilers, Latest Gossip, Future Story, Latest News and Upcoming Twist, on Justhowbiz.net
The episode starts with Sonam requesting Nutan to let her stay in the house for Dhruv's sake. Nutan tells Shashikant either send Sonam out or her. Shashikant says Sonam will stay here. Nutan asks if he will go against his wife for Sonam. Shashikant says he's not supporting anything wrong. He further tells this house is also his, so he can bring anyone he wants, like she brought Milky,
he brought Sonam. Nutan angrily walks away. Nutan packs her bags. She tells Shashikant she will stay in Sheetal's room until Sonam is here. Shashikant says to do whatever she wants.
Nutan says in their 32 years marriage, first time she's going away from him and blames Sonam.
Sonam goes to Dhruv's room calling out Buddy. He isn't there. Sonam searches for him. Milky tries to feed Dhruv Soup. Dhruv pour the soup on Milky. In anger Milky pushes Dhruv in a room. She throws the fire extinguisher in that room and locks yhe room. Dhruv can't breathe and starts shouting for help. Milky gets scared. She tries to open the door but it's not opening. Nutan and the family members come there.
Sonam hears Dhruv's scream. She comes running there. Nuttan pushes Sonam away. Sheetal notices smoke coming from the room. They all gets worried. The family try to open the door. Sonam runs to the backside of the house. She climbs the pipe and gets into Dhruv's room. She gets hurt and her leg starts bleeding. She throws out the fire extinguisher. Sonam opens the door using a stick. She brings Dhruv out. Family look stunned. Nuttan notices Sonam's leg bleeding.
Doctor treats Sonam. The latter asks ti check Dhruv first. Doctor says Dhruv is fine. She has thrown out the fire extinguisher at correct time and saved him. Dhruv gets concerned when Sonam hisses in pain. Sonam assures him she's fine. Doctor leaves. Nuttan tells Dhruv to be careful while playing. Dhruv tells Milky has locked him inside the room and put the somke as he was not drinking the soup. Nuttan slaps Milky. She scolds Milky for putting her son's life in danger. Nuttan thanks Sonam for saving Dhruv's life. Dhruv asks Nuttan if she's not angry with his buddy. Nuttan says no. Dhruv hugs Nuttan. He holds Sonam's hand and hugs her too.
Sheetal finds Milky packing her bag. Milky scolds Nuttan. Sheetal tries to stop milky but she leaves. Shashikant and Nuttan see Milky leaving. Nuttan finds Sonam feeding Dhruv. Sonam request Nuttan to take Dhruv out to get him ice cream. Nuttan agrees. Dhruv gets happy. They leave. Sheetal asks if she accepted Sonam, she forgot that she has a daughter-in-law.
Nuttan says she hasn't forgotten anything. She can bear Sonam for Dhruv's recovery. Sheetal tries to instigate Nuttan against Sonam. Shashikant comes there. He scolds Sheetal. He thanks Nuttan. He says she has shown what a mother's love is. He takes her back to their room. Few men informs the Jaiswals that their house's girl is lying unconscious on the road. They all rush outside. They find Sonam unconscious. Nuttan asks where's Dhruv. They all look shocked
The episode ends.
Precap : Shashikant reads the kidnappers letter: they put two condition to relase Dhruv alive, one to give 25 lakhs, second to get milky and Dhuv's divorce.