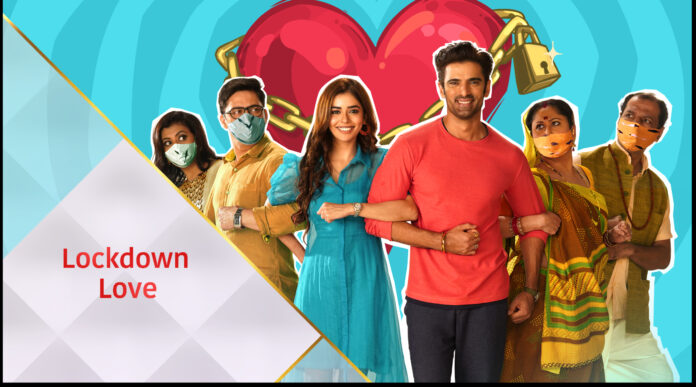 Lockdown Ki Love Story Upcoming Story, Spoilers, Latest Gossip, Future Story, Latest News and Upcoming Twist, on Justhowbiz.net
The episode starts with Sonam waking up startled. She asks where's Dhruv. Nuttan asks Sonam where's Dhruv, he has gone with her. Sonam tells what happened. A FB is shown where Sonam and Dhruv having ice cream. Suddenly few men come in a jeep and kidnap Dhruv. Sonam runs behind the jeep. She stumbles and falls down hurting her head. She loses consciousness. FB ends. Nutan blames Sonam. She regrets sending Dhruv with her. Shashikant says they should first find Dhruv instead of blaming others. Nuttan tells Shashikant Sonam can only bring troubles to her son. She cries asking to bring Dhruv back anyhow. Sheetal goes to a corner. She phones Milky asking her to return home, Dhruv is kidnapped.
Nuttan asks to phone Police and find who have kidnapped Dhruv. Shashikant phones Dhruv's friends while Deeraj phones Police. Sheetal takes Nuttan to a corner. She tells Sonam's dad might have kidnapped Dhruv. Dhruv is shown tied to chair in a room. Police ask Shashikant if he has doubt on anyone who can take revenge on him.
Nuttan says she has doubt on Sonam dad Pratap. Sonam says her dad can never kidnap Dhruv. Sheetal tells if she has forgotten her dad had brought asylum people to this house, he can do anything. She's certain he's behind Dhruv's kidnapping. Nuttan requests the inspector to investigate and find Dhruv. Police leaves assuring Nutan they will find Dhruv. Sonam thinks she has to save and her dad as well.
Milky comes there with her. She apologizes to Nuttan holding her feet. Sheetal asks Nuttan to forgive Milky. Nuttan forgives her. Milky acts asking where's Dhruv. Sheetal says he got kidnapped. Milky questions Sonam where's her husband, what she did with him. Sheetal says wherever Dhruv is, Police will find him.
Police puts Pratap inside the locker. Subhadra asks the inspector why they have arrested Pratap. Police says the Jaiswals registered a complaint against him for kidnapping Dhruv. Subhadra tries to talk to Pratap. The latter says he's trying save his from the Jaiswals but they made him criminal. He will not let Sonam and Dhruv to unite.
The Jaiswals receives a note placed in a sweet box from the kidnappers. Shashikant reads the note which has two conditions : one to give 25 lakhs money, second to get Milky and Dhruv divorced. Milky's mom accuses Sonam. She says Sonam and her dad are together in this plan. Sonam tries to explain. Nuttan stops. Nuttan asks to return her son. Milky cries saying she's ready to sacrifice her love to save Dhruv. She asks Nutan to accept kidnappers condition. She runs crying to her room. Milky's mom taunts Sonam and leaves.
Later Milky's mom phones Milky. The both rejoice as their plan of kidnapping Dhruv succeeds. It's revealed that Dhruv is kept in Milky's parents house. Sheetal scolds her for leaving the house. She asks not to do anything without asking her. Milky thinks she will do everything alone so that she doesn't need to share the amount with Sheetal.
In the Police station, Sonam apologizes to Pratap. She promises to him to get him out of jail. Milky's mom feeds Dhruv but he refuses to eat. He screans amma, buddy and cries.
The episode ends.
Precap : Sonam is seen walking searching for Dhruv. Dhruv sees Sonam from a house's balcony. He tries to scream buddy but few men closes his mouth and take him away. Sonam turns feeling strange.