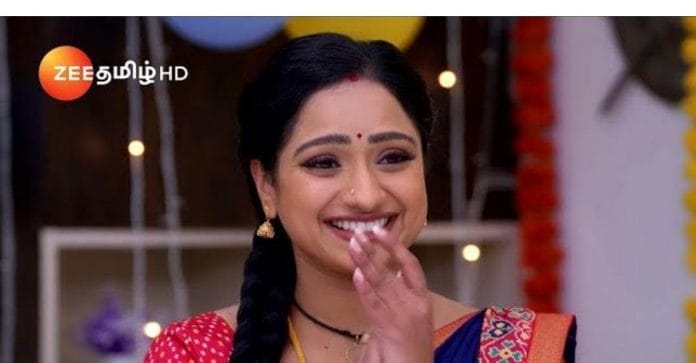 Maari Spoilers, Upcoming Story, Latest Gossip , Future Story, Latest News and Upcoming Twist on justshowbiz.net
Maari is a newly launched show of
" Zee Tamil". Maari has the innate ability to see the future and foresee impending dangers. Now, the series focuses on Jagdish to conduct a fair competition between Jasmin and Maari to find next Devi of the house!
In the recent episode we see; Thara lashed out at Jasmin for not stopping Maari. Jasmin narrated to her what happened in the temple. Surya applied ointment to Maari's wound and aids care of her.
Thara challenged Devi to kick Maari out of the house. Devi beaten her. She strangled Thara's neck and warned her. She challenge Thara to take her along with her.
Meanwhile, Jasmin feels cold inside the room. She turns off the AC but it turns on automatically. She tries to open the window but it was closed from outside. Later, Thara saved her from Devi. Maari celebrates woman's day with Devi and Surya. Thara disliked it all.
In the upcoming episode, viewers will see; Jagdish will share with his family that he is going to announce Maari as next Devi of this house. Thara will stop him. She will add that Jasmin is more talented than Maari. Surya will conduct a fair competition between Jasmin and Maari to find next Devi.
He will ask them to find a spy in their company. Maari will invite the manager's wives to home. Thara will demand Jasmin to win Maari this time at any cost.
What will happen next? Will Maari reveal Jasmin's truth to Surya? How will Maari tackle the situation?
The upcoming episode will answer all our questions and stay in tune with our space for more updates