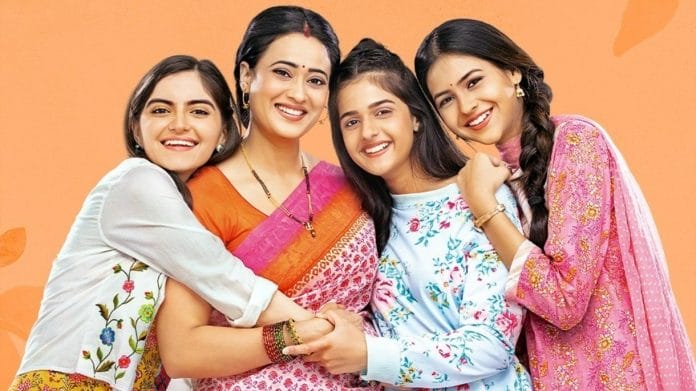 Main Hoon Aparajita Upcoming Story, Spoilers, Latest Gossip , Future Story, Latest News and Upcoming Twist on Justshowbiz.net
The episode starts with Asha and Disha getting ready to go to college. Disha says to Asha they have to leave. Disha asks Dadi to take care of herself. Dadi blinks her eyes and says to Aparajita that Dadi responded to her. Disha asks Dadi to blink her eyes again if she can hear them. Dadi blinks her eyes. Disha feels happy seeing this. Aparajita calls the doctor and gives an update about Dadi's condition. The doctor says the patient's health will deteriorate if they put too much stress on her. The doctor asks Aparajita to be careful with Dadi's help. Aparajita agrees.
Mohini taunts Aparajita and warns there is going to be a storm coming soon. Aparajita gives her reply saying she can handle any kind of storm and leaves from there.
It is shown Kalpana comes with her son to Noida and is talking to the taxi driver. The taxi driver drops Kalpana at their destination. Shubh ( Kalpana's son) sees some kids playing and spoils their game for fun and when the other kids question Shubh about it, he takes a rock and threatens them to stay away from him. Aparajita stops Shubh from throwing the rock and asks if he is a bad kid and says these kinds of things are done by bad kids. Kalpana comes to Aparajita. Shubh complaints to Kalpana about Aparajita. Aparajita explains to Shubh about it. Aparajita tries to greet Kalpana warmly but Kalpana doesn't greet Aparajita warmly. Aparajita makes Disha take Kalpana's blessings. Kalpana asks Disha to go and get her bags and she asks Aparajita to pay the taxi fare. Aparajita asks Disha to go to college tomorrow and stay in the house for today.
Kalpana enters the house. Aparajita introduces Asha to Kalpana. Aparajita asks Disha to go and bring Aarti for Kalpana. Kalpana comments on Aparajita.
Mohini comes with Aarti in a saree. Mohini hugs Kalpana and greets her warmly. Mohini gives Aarthi to Kalpana and her son.
Akshay hugs Subh and takes Kalpana's blessings. Akshay asks Kalpana why did she suddenly come here? Kalpana says she couldn't stop herself from coming here after hearing about Nia and Dadi. Kalpana praises Mohini and says a daughter in law should be like Mohini both modern and traditional. Kalpana makes a comment on Aparajita. Aparajita says she didn't come here to steal anyone's rights and says she only came here for her daughters. Aparajita asks Kalpana if she will have anything. Kalpana says she first wants to see Dadi and asks Mohini to take her to Dadi. Mohini takes Kalpana to Dadi.
Aparajita asks Disha to put Kalpana's luggage in the guest room. Aparajita prepares food for everyone. Disha complaints to Aparajita about Kalpana's behaviour.
Kalpana asks Akshay and Mohini what happened. Akshay tries to tell everything is normal but Mohini complaints to Kalpana about Aparajita saying Aparajita is trying to take over this house using Dadi as a shield. Akshay says there isn't anything like that. Kalpana says she knows Mohini and Aparajita really well. Kalpana says she only gave him pain and nothing else. Aparajita come and says the lunch is prepared. Aparajita says she will give oil massage to Dadi's legs. Kalpana says she will take care of Dadi from now on. Aparajita feels happy about it. Akshay takes Aparajita away from there as Kalpana is behaving rudely with Aparajita.
Mohini complaints to Kalpana that Aparajita is trying to take over this house and she is worried about it. Kalpana asks Mohini not to worry and says she will make sure that Akshay throws Aparajita out of this house. Chavi overhears Mohini and Kalpana talking.
Akshay apologises to Aparajita for Kalpana's behaviour. Aparajita says she can understand. Chavi comes and hugs Akshay crying. Chavi asks Akshay to promise that they will not leave them again. Aparajita sees all this.
Episode ends.