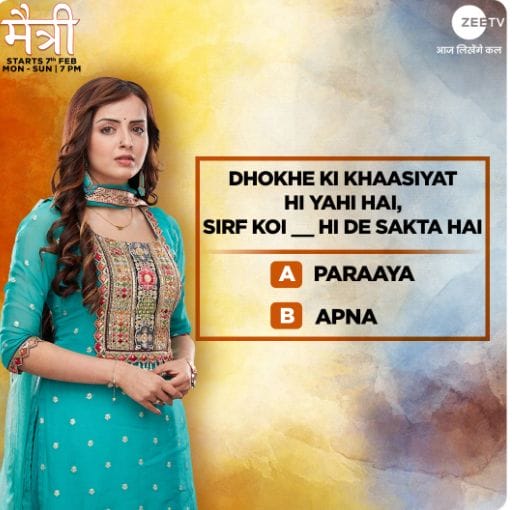 Maitree Upcoming Story, Spoilers, Latest Gossip , Future Story, Latest News and Upcoming Twist on Justshowbiz.net
The episode starts with Maitree telling all the ladies to calm down. Maitree says to the ladies that for the first time they are conducting Handicraft Mela here. When Maitree tries to tell them about Mela. Ashish interrupts Maitree and says she has to first tell the ladies that there will be stalls and the people can directly buy from the stalls. Maitree says to Ashish that she is about to tell them if he hadn't interfered. Maitree says to the ladies about the Handicraft Mela and says they will also organise a fashion show to show their crafts to the people.
The handicraft ladies ask Maitree about their doubts and Maitree clears all their doubts one by one. Suman sees Maitree and decides to pass this information to Vasundhara. The ladies leave after a while. Ashish hears Nandish crying. Ashish asks Maitree to give Nanfish to him and take care of her work. Ashish junior comes and calls Ashish.
Ashish asks his junior what is the client saying? Ashish junior says the client doesn't want them handling his case as Ashish couldn't even win the custody of his own child. Ashish asks his junior to tell the client that he will argue the case freely for him. Ashish says to himself that he already lost a lot and says he doesn't want to lose his career. Maitree tells Sachin and Om to go to the venue and check on the lights etc. Sachin and Om leave from there.
Vasundhara applies a lipstick on her lips. Vasundhara's brother's wife does an ad about the lip stick with Vasundhara in the serial. After that Vasundhara's brother comes and asks Vasundhara what is going on in her mind? Vasundhara says the court set the date for Ashish and Maitree to visit Nandini is the day after tomorrow. Vasundhara says she is going to call both of them today. Vasundhara says if both Ashish and Maitree are here then no one will do the event planning. Vasundhara's bother praises her idea.
Ashish gets a message from Vasundhara asking them to come today instead of day after tomorrow as she has to go somewhere. Ashish says to Maitree about it. Maitree thinks how can she handle everything if she goes with him to meet Nandini. Ashish objects to it and asks Maitree to just concentrate on her work. Ashish says he and Nandish will go and meet Nandini. Maitree agrees.
Ashish and Nandish come to Vasundhara's house to meet Nandini. Vasundhara asks Ashish where is Maitree? Ashish says Maitree didn't come as she has some work. Ashish asks Vasundhara to leave so that he could spend some time with his wife alone.
Vasundhara's brother asks Vasundhara then what will she do. Vasundhara says she knows how to change things in her favour.
All the ladies bring their crafts to the Tiwari family and asks Maitree to take care of their goods. Maitree says their goods are safe here. The ladies leave from there. Maitree calls Ashish and asks Ashish how is Nandish? Maitree hears Nandish crying and asks Ashish if he fed Nandish or not? Ashish says he fed him but he will feed him again. Ashish asks Maitree to just concentrate on his work and cuts the call.
Suman comes and says to Maitree that she didn't bring the curtains for the stage. Maitree agrees. Maitree asks Suman to go and bring the curtains. Suman makes up a reason and says she couldn't go. Maitree says she will go and get it. Suman uses this chance to burn all the handicraft goods by pouring gasonline on them and lighting them on fire. Suman accidentally gets stuck in the fire and calls for help. Maitree comes and sees Suman stuck in the fire. Maitree calls for help. Om comes and sees the fire. Om calls the fire department.
Maitree and Om pour water to control the fire. Suman asks Maitree to save her. Maitree wets a blanket and jumps into the fire. Maitree saves Suman by sending her out of the fire. Ashish kusum and Sona come and see that there is fire in the storeroom. Ashish asks Maitree to come outside. Maitree says she couldn't. Ashish tries to go into the fire to save Maitree. Sona stops Ashish. Ashish says he couldn't live with himself if he doesn't save Maitree. Sona asks Ashish to give his word that he will take care of himself. Ashish agrees.
Ashish covers himself in a blanket and enters the store room. Maitree scolds why he came. Ashish says you're valuable to Nandini so I need to save you. Sona asks why the fire brigade people didn't come. Maitree says the fire is getting increased. Ashish asks if she trusts him. Maitree agrees. He takes and jumps out of the room from the window. Maitree cries seeing her materials are getting destroyed. Ashish consoles her. Family members go to them and feel grateful to god. Maitree scolds Ashish for risking his life. Ashish says it's for their friendship. Fire brigade people control the fire.
Om asks Maitree to not lose her hope. Ashish scolds her for not taking his help. Om asks him to control his anger. Maitree says this event is important for village women too and this fire burned things but not my hope and I won't sleep until I finish the event successfully. Vasundhara calls Suman but she doesn't attend the call. Vasundhara thinks about what's happening at Tiwari's house. Suman serves tea to the Tiwari family. Suman doesn't attend calls. Maitree asks her to attend the call. Ashish doubts Suman seeing her tense mode. He questions her. Om asks her to attend the call. Ashish takes the phone and sees its call from Vasundhara. Everyone gets shocked.
Ashish questions Suman about how she knows about Vasundhara. Sona says Vasundhara may send Suman to our house to spy on us. Om asks Ashish to call the police. Suman tries to escape but Sona catches her. Suman holds Maitree's feet and admits that Vasundhara is the one who sends her to keep an eye on them and she wants to prove in court that Maitree is unfit to take care of the baby responsibility so she asked me to send videos and Vasundhara offered me 1lakh so I burned the things unwillingly and I didn't know Maitree saves me risking her life and I felt guilty and doesn't attend Vasundhara's calls and I did it for my dad's treatment. Sona slaps Suman.
Om asks Ashish to complain about Suman calling Dinesh. Ashish agrees. Maitree stops Ashish and says Vasundhara wants to spoil my event so let's answer her making my event successful. Ashish says everything is ruined already and you don't want to take our help too. Om and Kusum ask Maitree to take their help. Ashish says Maitree won't agree because of her ego. Maitree agrees to take Kusum's help and says to Kusum that she will give a 10% share in her company. Kusum agrees. Om asks Sona to invest too. Sona says she will help Maitree to finish her quickly and which will defeat Vasundhara.
She asks them to join hands. Everyone joins their hand. Suman says she will recent her mistake by helping them and asks them to give her one chance. She says she will call her friends for help. Maitree agrees to take Suman's help. Suman joins them. On another side, Suman calls Vasundhara and informs her that Maitree's dream is burned along with the clothes. Vasundhara says good work and cuts the call. Maitree smiles.
Episode ends.