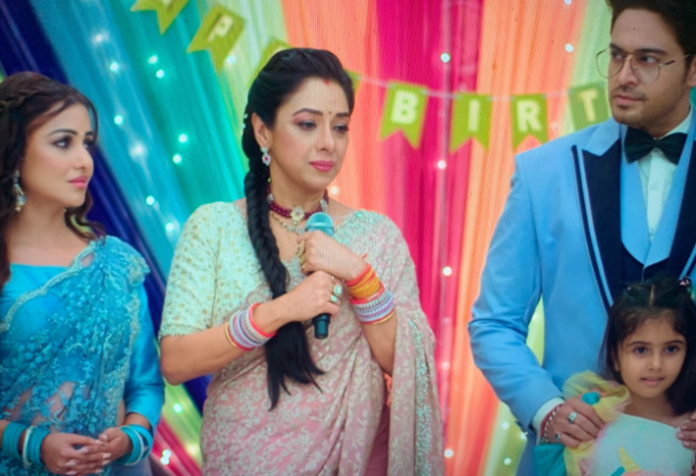 Anupamaa Spoilers, Upcoming Story, Latest Gossip , Future Story, Latest News and Upcoming Twist on Justshowbiz.net
Ankush to expose Maya in front of Anuj, Anupama.
In today's episode, Anu gives picture of Maya and Anupama. She asks him to keep it sfe. Anuj tear the picture and says he won't let Maya enter in Anu' s life. Maya brings another picture and says to Anuj that none can separate Anu from her. Anuj asks Maya to wait for one more day. Anu gets excited on her birthday. Dimple asks Anu to relax. Anu asks Dimple who is looking beautiful the decoration or she. Dimple says to Anu that obviously she. She asks Anu to go to her room and chill. Anupama and Anuj complement each other. Maya gets teary seeing Anu with Anuj, Anupama. Ankush says to his son that he will come to meet him soon. Barkha asks Ankush to stop giving false hope to his son. Ankush says he would have brought his son to the house but stopped because already many things are going at Kapadia house.
A guest comes and Ankush introduces him. Anuj welcome other gets. Barkha says to Ankush that Maya did a classy decoration. Ankush says such woman don't have a class. Anuj, Anupama welcome Shahs. Barkha asks Leela about her visit. She asks Leela if she knew about Maya and expecting drama. Maya wait for Sushma. Ankush's guest sees Sushma. He asks Anuj what Sushma is doing in Anu's birthday party. Anuj takes Anu with her. Maya and Sushma doubts if Anuj know their truth. Leela waits for drama to being. Hasmuk asks Leela to stop doing lousy talk.
In the upcoming episode, Ankush will tell to Shahs and Kapadias about Maya being a bar dancer. Maya will slap Ankush. How Anuj, Anupama will keep Anu away from Maya? To know more keep visiting this space.