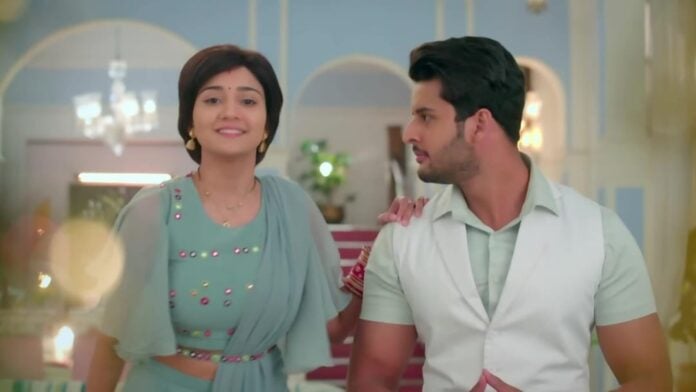 Meet Upcoming Story, Spoilers, Latest Gossip , Future Story, Latest News and Upcoming Twist on Justshowbiz.net
The episode starts with Anubha arriving at Ahlawat mansion and she tells everyone, Meet will stay at home to celebrate Lohri. Manushi tries to take her blessings but Anubha stops her then she says it's the first Lohri of Meet and she has to spend with her family, so she won't leave to work. Raj says she can go to work as Babita ji also busy with her work. Anubha says it's your good heart but as a daughter in law she has to stay at home then she hugs Meet and asks if she didn't inform family members that she doesn't need to Work at the delivery center, how much do you want me to feel embarrassed infront of them? Meet thinks about what happened to Mom as she still wants me to quit my job. Anubha brings gifts to everyone. Meet asks why she spent so much. Anubha silences her then She gives them golden Kumkum box and asks them to place it in mandir and she asks Meet Ahlawat to place sindoor to Meet in the evening Pooja from that box then she is about to leave but Meet stops her holding the hand but She leaves.
Meet Ahlawat and Meet places kumkum box in the mandir. He asks why she didn't tell him that she took leave. Meet says even you didn't tell me what you wanted to tell me last night and she makes him sit and asks to tell. Meet Ahlawat about to say but She stops him seeing Babita is taking Sunaina somewhere then she follows them. Manushi thinks I know you will react in this way and today you're going get scoldings from your mother in law.
At the hospital, Babita asks Doctor to check if Sunaina had physical intimacy with her second husband or not and she offers Doctor a hefty amount to find the truth. Meet overhears the conversation and thinks about what happened to Babita. Doctor asks Sunaina if she is ready for test as it's question of her dignity and the Doctor denies conducting the test. Sunaina says she is ready they Doctor is about to take her for the test but Meet stops Sunaina and says no need to prove your innocence with this test and it's about your self-respect. Babita tells Meet to stay away from this matter and questions if she goes against her for an outsider? I didn't expect this from you and Sunaina why didn't you tell me at home that you're not ready for the test. She leaves.
Meet stops her and says I don't want to go against you but this test is not good. Babita says the proof is needed to believe her. Meet says sorry but Tej returned after many years but Sunaina bhabhi didn't doubt him. Babita warns her to not involve Tej. Meet says we don't know when Tej gets cured but Sunaina trusts that he will recover so stop testing her love and you're an inspiration to me then how can you do this to other women. Babita says it's about our point of view and I need to go now as I'm getting late for boutique, hope you won't inform this matter to anyone. Meet promises that they won't reveal to anyone.
Ahlawat family members prepare their kites. Masoom asks Raj if she can join the office. Raj agrees and asks her to join from tomorrow itself. Masoom thanks him. Everyone leaves. Manushi comes there, Meet Ahlawat dashes with her then she asks him to tie manja to her kite. Meet Ahlawat asks her to leave saying he will tie but She stays with him. Meet wipes Sunaina's tears and tells it's your mistake too, why you agreed to this test. Sunaina says she is ready for her love. Meet says killing self-respect for love is wrong and your love is not your strong point, don't make it weak. Then Meet sees some baba blessings people. Hoshiyar asks Masoom, why she wanted to join the office? If she accepted the defeat. Masoom says I don't want to spoil my image infront of my parents and I will join the office to get control of money and office. Anubha gives tea to Ammaji. They hear Baba's voice, Amma ji asks Anubha to invite him. Meet disguised herself as Baba and enters the home to know the reason behind Anubha's Change.
Episode ends.