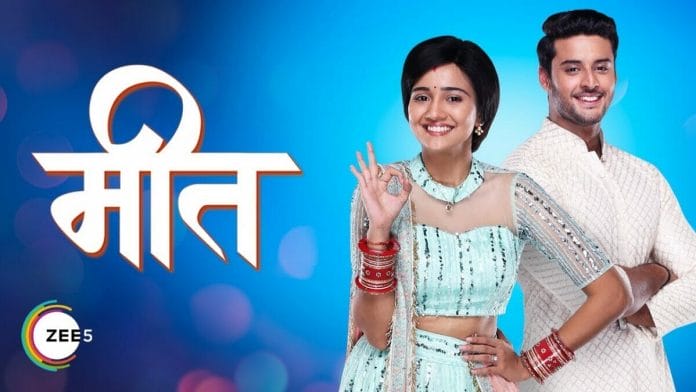 Meet Upcoming Story, Spoilers, Latest Gossip , Future Story, Latest News and Upcoming Twist on Justshowbiz.net
The episode starts with Sumeet getting posters published for wanting singer for the Ganesh Chaturthi performance. Shlok and Naaz pass by Sumeet but she misses to see him inspite of feeling his presence. Naaz asks Shlok if he liked malls in Pakistan and praises street shopping, Shlok slips his tongue and says even in his place Chandni Chowk is similar. He realises his mistake and says in US there was a replica of Chandni Chowk based on Indian theme. Naaz tells Shlok to return back to US. Shlok notices a Pakistani guy taking off the Ganesh Chaturthi poster and tells him to respect God.
Pakistani guy gets angry on Shlok and questions him for his reason behind the same. He questions Shlok what his religion is and if he is Hindu. Sumeet also reaches there but doesn't see Shlok's face because of gathering. Naaz intervenes and tells the guy Shlok being Adil who is their guest. She tells Shlok he still has good values but needs to work more to impress her. Shlok hears Sumeet's voice talking to shopkeeper and tries to look for her but then thinks how can she be there.
Raj reads letter left by Sumeet for them asking apology for going to Pakistan inspite of them requesting her not to go. She wrote that she cannot let her husband and son of the house suffer so she had to go and even has asked Raj to look after all the family members like Shlok does. Raj tells he will do all the duties and is proud of Sumeet's bravery but he is afraid how she will tackle the enemity in Pakistan and bring her love back. Sumeet hopes Shlok sees the poster and gets her hint. She sees a blind baba struggling to walk and helps him. He blesses her and she gives him candies when he denies to take money.
Once Sumeet leaves,same baba gets helped by Shlok and he gives candies given by Sumeet to him. Shlok gets surprised to see Indian candies and same which are Sumeet's favorite. He wonders if she has actually come to Pakistan and sees bubbles around. He follows them and is about to reach Sumeet who was making them but he hears a lady asking for help and misses to Sumeet. Raj hurts himself thinking he could not take his role as brother properly as Sumeet left alone for Pakistan.
Priyanka tries to calm Raj while Pankhuri also comes there and badmouths Sumeet for not caring about Raj's feeling before leaving. Priyanka takes a stand for Sumeet and asks Raj to stop blaming himself. Naaz gets attacked by her obsessive lover Raja. Shlok saves her and makes her hit the guy. She gets impressed with him and hugs him. Naaz thinks how can she reject a guy who respects women so much. She holds his hands and walks ahead. The episode ends with Sumeet being around them but misses seeing them.