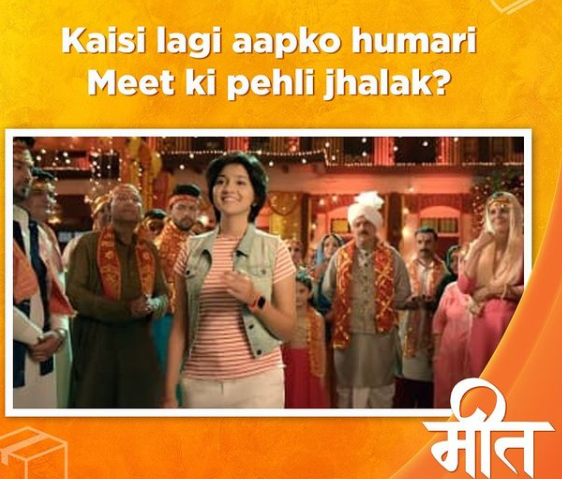 Meet Upcoming Story, Spoilers, Latest Gossip , Future Story, Latest News and Upcoming Twist on Justshowbiz.net
The episode starts with Deep comes to Meet place and reveals him that they got the foreign contract and he fixed the meeting with them. Meet asks really. Deep says their company touches international market if they get this collaboration. Family members feels happy. Raj says Guruji is correct that Meet will bright the future of our Meet. Deepa tells to Meet that their meeting time is 4am. Babita says noone will sleep tonight and we have to encourage our Meet and tells them that she will get rabdi. Dadi wakesup hearing noise than she notices shadow of Kunal and Manushi are hugging eachother than she switches on the light. Manushi returns to her bed and asks her to switches off the light. Dadi thinks she is not mistaken as she heard the voice too and she recalls everything and thinks they did mistake by locking Manushi and Kunal in a room and she cries thinking Manushi might be pregnant. Manushi feels happy and thinks her plan is going in succesful way and now Dadi will set everything for me and Kunal.
Everyone enjoys their rabdi. Kunal says let's play antyakshari. Isha says you're bad singer so don't think about it. Chavi tells to Masoom that she mixed sleeping pills in Meet Rabdi and she will create tamasha in her drowsy state. Masoom praises her idea and thinks Meet may reveal Manushi truth too. Isha suggests folding news paper game. Everyone agrees. Isha asks Raj, Babita and Meet and Meet Ahlawat to play it. Raj and Babita goes to play than Meet Ahlwat asks Meet to play it with him saying they can win it like Cricket match. Babita and Raj returns to their places thinking it's better to watch. Isha reduces the light appearance which makes the atmosphere romantic and they plays the game well and Meet about to fell down but Meet Ahlawat holds her and makes her stand on his feet. Masoom and Chavi looks frustrated. Meet about to leave from him but Meet Ahlawat stops her by holding her hand and he asks her to not leave anywhere leaving him and he pulls her towards him and tells her I love you. Everyone gets shocked.
Masoom takes Chavi aside and scolds her for giving sleeping tablets to Meet Ahlawat. Dadi goes to Anubha room and knocks the door. Anubha opens the door amd asks her what happened. Dadi tells to Anubha that they did mistake by keeping Manushi and Kunal in one room. Anubha asks her to tell directly. Dadi reveals to her what she saw. Anubha gets shocked. Deep and Meet takes Meet Ahlawat to his room and they makes him sit in his bed. Meet Ahlawat says noone can beat us in game when we are in one team. Meet sats yes, noone can defeat us. Deepa says Aunty, meeting in another 3hours and how can he deal with foreign investors in this state, if he can't attend it than his years of trails get wasted and he was so excited for meeting but don't know what happened to him. Babita says don't know how he got inebriated. Meet says she will get him lemon water but Meet stops her by telling her that I missed you and he makes her sit on bed and tells to his Mom that his love returned to him. Babita says Meet. Meet Ahlawat says I missed you so much, because I love you Manushi. Meet and Babita gets shocked.
Episode ends.