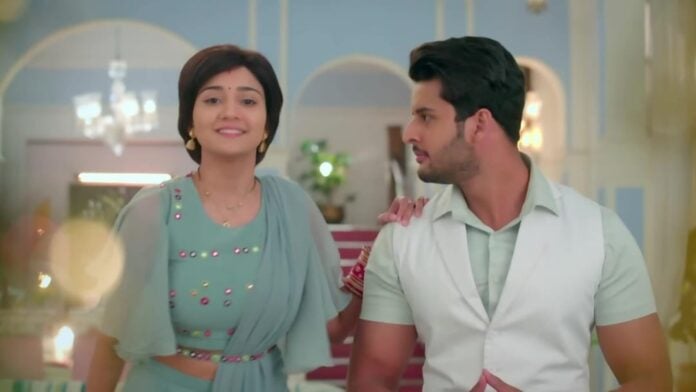 Meet Upcoming Story, Spoilers, Latest Gossip , Future Story, Latest News and Upcoming Twist on Justshowbiz.net
The episode starts with Meet Ahlawat and Meet arrives to Christmas party where they notices all couples are dancing than he offers his hands to her, she holds his hand than they both dances for jag ghoomeya song. Event Organiser tells to everyone that they are conducting game for couple to know the understanding between them and one who answer right answer to 3 questions will win this game. Organiser asks favourite colour, Meet answers correctly but Meet Ahlawat fails and she shouts saying she won than anchor goes to question other couple.
Meet says let's take photos to show our family and they takes photos with Santa Claus. Meet says I'm not visible infront of you and she goes aside and clicks selfies to send to her Dadi and Mom. Meet Ahlawat thinks he don't know manythings about Meet even though she knows him. Than she returns and both comes under mistletoe while taking selfies. Everyone claps surrounding them. Meet asks why they are doing this than he says we have to kiss as we came under mistletoe. Meet looks shocked. Manushi arrives there and thinks how it happens. Everyone shouts them to kiss.
Meet Ahlawat and Meet move aside to escape but everyone insists them to kiss. Manushi thinks Meet Ahlawat will never kiss Meet. Meet Ahlawat removes his coat and covers their faces with it. Meet tightly holds her dress. Manushi gets shocked. Meet Ahlawat teases her for the tension. Manushi thinks Meet Ahlawat belongs to her in tears. Meet smiles calling him as Dramabeez and she tells him that it's suffocating than he removes his coat from them. Organiser says it's romantic. Manushi thinks you forced me to do it Meet and i won't let you play with my future.
Organiser says it's time for kids game i.e tresure hunt. Meet says she will play too. Meet Ahlwat says i know you're kid. Meet says she is not old like him and she leaves after drinking her juice and joins others kids for treasure hunt game and she feels dizzy. Manushi recalls how she spiked Meet drink. Meet Ahlawat thinks Meet will definitely win it.
Meet sends kids to otherside and she moves in other side and she faints. Manushi holds her and thinks she can stop her from entering between her and Meet Ahlwat for some days and in your absence i will make Meet Ahlawat becomes mine than you can't do anything even after your return so I need to hide you for some days, she hides Meet in trolley and ties her hands and says i rejected Meet Ahlawat thinking I have Kunal but he is not good so I need my Meet Ahlawat back and you can adjust with everything so adjust in this matter too, she moves trolley but leaves it when she dashes with Tej.
Episode ends.