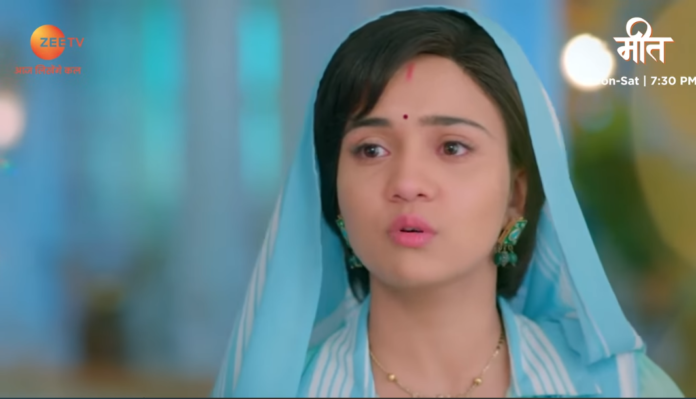 Meet Upcoming Story, Spoilers, Latest Gossip , Future Story, Latest News and Upcoming Twist on Justshowbiz.net
The episode starts with Tej happily eats the pasta. Meet says, did you like it? Dodu ram too likes this kind of food. Manushi thinks dont know why Meet waste her time by spending this kind of people even after becoming rich bahu, anyways Manushi leave from here and concentrate on Meet Ahlawat. Babita missed her son. Meet Ahlawat comes near restaurant area but Manager takes him saying he called whole Staff downstairs regarding his complaint thsn they goes. Meet says don't know where Dodu ram went and she waits for him. Meet Ahlwat stops near Manushi asks how she got injured in her hand. Manushi says she was hurt in corridor. Than Meet Ahlawat asks Manager to show him last night Cctv footage. Manushi thinks she is dead. Manager asks Manushi to take Meet to Cctv footage room.
Babita tells to Raj photo that Sunaina will leave marrying someone so please come soon. Sunaina hears her words and says i can't see Papa ji in this kind of situation that's why I i agreed to marriage and she hugs her in tears. Manushi asks Meet Ahlawat how can he doubt her? You loved so much than how can you doubt me than they goes to Cctv room and sees the footage. Manushi feels tensed. Main part of footage is missing. Manushi think thank God she deleted on time. Rajvardhan asks Mani kaka to keep the gifts for Groom family at one place. Jaypratap says you're treating Sunaina as your daughter and i trust that you will like the groom i choosed for her. Raj agrees than they leaves. Babita keeps letter in gifts to cancel the marriage of Sunaina. Manager request Meet Ahlwat to not complaint to police as their reputation may get spoiled. Meet Ahlawat agrees. Manager says he will fire the employee if he suspects anyone. Meet Ahlawat leaves saying he don't doubt anyone.
Meet Ahlawat goes to restaurant and asks Meet about her friend. Meet says he went after having food and he looks happy and Meet about to tell him regarding the book with Tej but Meet Ahlawat gets call. Manushi plans to do something to separate them than she gets call that 229 room people are calling her. Manushi excitedly leaves thinking Meet Ahlwat called her but she gets shocked seeing new couple and they asks her to remove the lock of washroom. Manushi agrees than she goes to Reception and asks where 229 couple went. Receptionist says they checked out from hotel. Manushi thinks where they went.
Meet Ahlawat and Meet travels in camel and they enjoys the performance of Banjara ladies. Meet says she enjoyed the trip than they have their lunch near Lake. Meet Ahlawat says my brother Tej too likes this kind of places and he choose the place what I like. Manushi asks Receptionist whether they booked cab from their hotel. Receptionist says no. Manushi thinks how to find them. Meet Ahlawat says i share best friend bond with my brother and he used to bunk classes to protect me. Meet says you're Darkpok since childhood. Meet Ahlawat asks her which thing she scares of. Meet says she gets feared with closed places. Meet Ahlawat says you're having clastrophobia and he smiles at her explanation of fear than he asks her to calm down to control your heart rate and count numbers to divert your mind if you ever struck in that kind of situations. Meet says she will never struck in those places as she don't want to visit them. Manushi thinks meri lovely sister, i will get my Meet Ahlawat.
Episode ends.