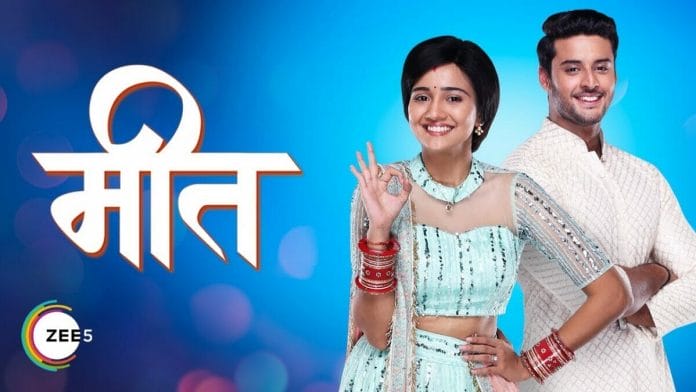 Meet Upcoming Story, Spoilers, Latest Gossip , Future Story, Latest News and Upcoming Twist on Justshowbiz.net
The episode starts with Manmeet kneeling infront of Sarkar. Meet says that she and Manmeet love each other a lot and if he feels her going away from Manmeet's life will return back him to Sarkar she will leave. Shagun tells Sarkar that he will get his son back and Meet will get Cheeku but what about her revenge. Shagun says she won't return back Cheeku and drags him with her. Shagun holds knife on Cheeku's neck and threatens to hurt him if anyone comes near. Sarkar scolds her for changing last moment. Shagun doesn't listen to him.
Shagun says she will give Cheeku such upbringing that after years when Meet sees him she will feel embarrassed. Meet picks up color and throws it in Shagun's eyes. She frees Cheeku and sends him to Manmeet. Meet beats up Shagun badly and throws her in color. Police reach there and shows Manmeet that stay order has been signed by the commissioner. It says Cheeku will stay will Meet as she is his real mother. Shagun shouts at her failure. Meet says both Cheeku and Sumeet are her pride and will always stay together. Shagun threatens them about revenge and returning back before leaving.
Meet hugs Cheeku. Sarkar is about to say something but Manmeet doesn't let him speak. He says he has taken a decision that if he has to return to Sarkar Mahal without Meet then he won't go there and he would not go anywhere where his wife is disrespected. Manmeet says what will their children learn while growing up if his wife is being disrespected by his family members. Manmeet tells Sarkar that he has lost him forever. He says he loves and respect Sarkar a lot but he cannot go with him. Manmeet leaves with Meet and Cheeku leaving Sarakr speechless.
Yashoda prays to Lord Krishna to keep her family united and safe. Sarkar comes there and looks behind to check for Manmeet and Meet. Sarkar tells that Manmeet left the house for his wife. Sarkar tells Yashoda to emotionally blackmail Manmeet and persuade him to come back home. Yashoda tells Sarkar needs to answer her questions first. She asks him what did he do for Manmeet to take such a big step. Yashoda vents out her frustration on Sarkar and accepts Manmeet's decision. She says he has not only lost his son but also his wife.
Yashoda tells Sarkar he can bring new wife as she will Sarkar house and go to stay with Manmeet. Hoshiyar tells Meet and Manmeet to stay in Alhwat house. Masoom tells Cheeku and Sumeet about her daughter being in trauma because of them being tortured by Shagun. Cheeku consoles Sumeet. Mahendra scolds Gunwanti about her sister Shagun being the main cause behind all problems. They think about losing everything. Manmeet tries to get romantic with Meet and they come close. Gunwanti and Mahendra plot something to bring back Manmeet and Meet to home by hurting Sarkar or Yashoda. Sumeet and Cheeku suddenly come inside room and tell Meet they will sleep together. The episode ends with all of them cuddling together happily.