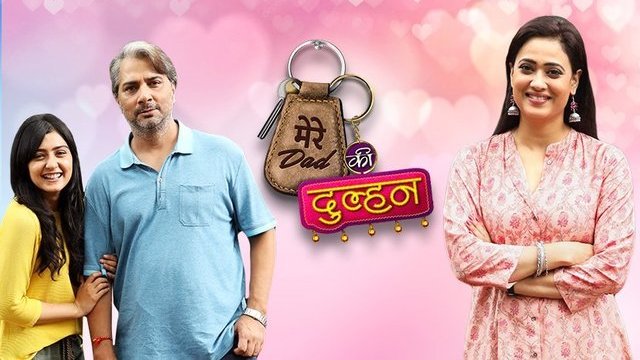 Mere Dad Ki Dulhan Upcoming Story, Spoilers, Latest Gossip, Future Story, Latest News and Upcoming Twist, on Justhowbiz.net
Episode begins with Amber and Guneet discussing after the function is over about his performance. Amber flirts with Guneet and she starts to smile. Pammi sits with his cousin sister about the future of Guneet and Amber.
 Pammi I have full faith in my daughter that she will handle things on her own. She is enough matured to handle all days but still I am a mother and I do get worried for my daughter. Her cousin sister suggested Pammi that you take out time and have a conversation with Guneet and that will be the best option.
At night everyone is sitting together and Amber is applying lemon juice on the hand of Gunnet to dry her henna properly. Ambar is singing songs and when it is looking at him with love filled eyes.
Guneet thanks everyone for arranging such a beautiful sangeet party for her because she herself can never imagine such a grand function for her marriage ceremony. Everyone is having chit chat with each other when Hakim stands up among them and starts to reminding those old days of his friendship with Amber. He shares with them how Amber used to be in his young days and in his childhood.
Hakeem says all that like me even Amber wants to become a doctor but then he gave up on this thought process because once due to an accident he injured me in a very bad way. However he is the one who took care of me the most that time. He decided that he will never become a doctor but on the other hand I decided that I will surely become one.
He says I really want to convey my gratitude to him for being a great friend. Hakeem says that I have experienced almost every emotions of Amber. His happiness, sorrow, likings, disliking, tears, smiles. However one thing I want to say standing today for my friend that he gets all kinds of happiness and good in life.
May he always keep smiling and gets whatever he wishes for in his life. He asks Guneet I never get to know what magic you did to my friend that he got changed completely. Amber and Guneet are looking at each other with love filled eyes. 
Hakim starts to sing a song for his friend Amber and suddenly Kajal says out of nowhere that we should sing that song for uncle and that is "Main kya karu raam mujhe bhagoda mil gaya" and everyone gets triggered with this line because they know what is coming next. Rishi, Niya and all the others people tried their best to stop her but she is too drunk to come back in her senses and shut her mouth for good. everyone who is present at that moment got embarrassed.
Guneet is surprised and ask why I will call him an escaper? Kajal says because he was escaping from his marriage  but it was Niya who brought him back here. Guneet got upset to hear this and everyone is silent over this. Guneet gets up and walked away from there.
Precap – Niya is live in a radio show