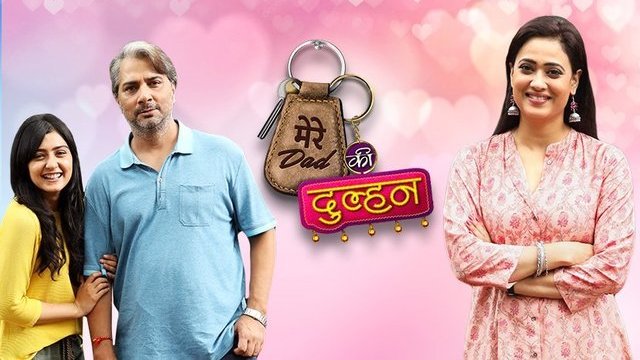 Mere Dad Ki Dulhan Upcoming Story, Spoilers, Latest Gossip, Future Story, Latest News and Upcoming Twist, on Justhowbiz.net
The episode begins with Niya celebrating for her father and Niya's relationship. She gives her father's alliance for Guneet to Pammi and she doesn't agree for the first time. Niya tries her best to convince her while Guneet and Amber us trying to listen to their conversation from outside of the room.
 Pammi listens to Niya whereas Kabir, Swara and Kajal are skeptical about what she will say. Pammi listens to Niya and says I will not agree to them and they thought maybe she is saying no for the alliance but Pammi says I will not agree without taking at least 50% discount on the bridal dress for the bride and groom.
 She says the marriage will take place as per the punjabi rituals hence I will take the discount as the mother of the bride. Everybody shouts in ecstasy and happiness that she agreed for it while Guneet looks at Amber with a smiling face. Everyone rejoices in happiness along with Hakim, Swara, Kabir and others.
All starts to celebrate when Niya hugs her fathr in happiness and Amber says finally you did find a bride for your father and she says after all whose daughter I am and gives a hug to Guneet. Amber, Guneet and Niya had a family hug with each other and they clicked a group selfie with each other.
However, all of them goes directly at the register office with the entire family and friends. Guneet  comes at the register office with Amber and they are about to sign the papers when the registering person says to Amber it is better not to arrange so much for now. Hence doing this better and they comes out of the office and went to have ice cream with everyone.
Amber says to Guneet I have given money to Shukla family members so that they can party according to their terms. Amber asks all to come to his house and all will do party there. Amber is having dreams of having a happy married life with Guneet. He is dreaming of she is making breakfast for him and giving him bag for office.
Suddenly his sleep got broken with so much of crowd surrounding him and he realises he is dreaming all this while about Guneet. Niya is asking all to decorate things for his engagement.
Precap – Niya does start the roka of Amber and Guneet and all are happy to see them together.