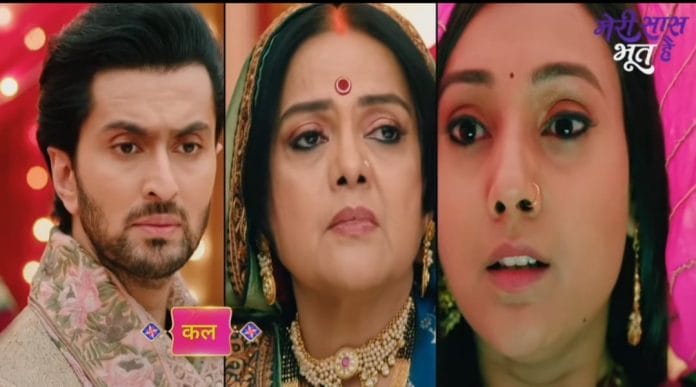 Meri Saas Bhoot Hai Upcoming Story, Spoilers, Latest Gossip, Future Story, Latest News and Upcoming Twist, on Justhowbiz.net
In today's episode, Som goes to Gaura's room and searches for the jewlery. He finds the alcohol bottle and gets doubtful. Rekha says that Gaura has captured her in that bottle earlier. Pardesi asks Gaura if she has captured Rekha's ghost inside the bottle. Gaura says no as his formula was useless. Som questions Gaura about the bottle, he asks Gaura if she drinks. Gaura says she got the bottle from Ramesh's cupboard to use it on diwali. Gaura says that Som won't find anything in her room. Som keeps searching. He finds his photo inside Gaura's cupboard. Som tears the photo and says that she won't even get his photo.
Som goes to his room. He spots the sofa and tries to search inside it. Gaura tries to stop him but in vain. Rekha gets tensed. Som fails to find anything inside the sofa. He hears Ganga's scream and goes to check. Rekha stops Gaura and asks about the jewlery. Gaura says that she has changed their location. Rekha asks her about the new location. Gaura smiles. Som, Kanchan approach Ganga. Ganga informs Kanchan, Som that she has just discovered the jewlery inside her cupboard. Rekha asks Gaura to inform. Gaura says that those jewleries are safe and secured. She shows her the jewlery.
Rekha becomes happy and says that Gaura has won her mind today. She asks Gaura to leave the jewlery infront of her eyes and go to check Ganga. Gaura gets shocked seeing the jewlery in Ganga's room. She remembers Rekha. Rekha appears. Gaura learns that Rekha can now read her mind. Rekha says that now she will frame both Ganga and Kanchan. Som, Ganga call Gaura. Som apologies to Gaura for misunderstanding her and leaves. Ganga gives the jewlery to Kanchan. Ganga says sorry to Gaura for Laxmi's arrest. She asks Gaura to not talk to the air and wall hereafter. Gaura nods.
Gaura wonders what Rekha is upto doing. Rekha wears all her jewlery. She says that her parents made all these for her during marriage but Ganga snatched those from her few days after the marriage. She says that now Ganga, Kanchan are being happy with the duplicate jewlery. Flashback shows, she spotted Rahul while he was dumping those duplicate jewlery. She figured out that Kanchan made those duplicate jewlery to replace them with the original jewlery. She thinks that now she will fool Kanchan and she won't get it. Som returns to his room. He feels confused. He regrets for misunderstanding and accusing Gaura.
Chanchal calls Gaura. Gaura apologies to her for misbehaving with her earlier. Chanchal says it's okay. She says that she is happy as Gaura didn't reach jail. Gaura questions her. Chanchal says that she doubts that Gaura has stolen the jewlery or atleast did something suspicious with them. Gaura refuses. Chanchal says that she knows how Gaura reacts when she does anything fishy. Gaura asks Chanchal to mind the household chores not her activities. Chanchal says that Som is not in good in terms with Gaura and taunts her. She leaves. Gaura makes up mind to mend her relation with Som. The episode ends.
Precap – Gaura questions Rekha about Twinkle. Rekha asks her to stay in limits. Gaura says that she will find Twinkle, meet her and inform her that Som belongs to her none can snatch him from her. Rekha says that she will remove Gaura's delusion soon.
Click to read
Meri Saas Bhoot Hai 22nd March 2023 Written Update: Gaura bribes the police inspector