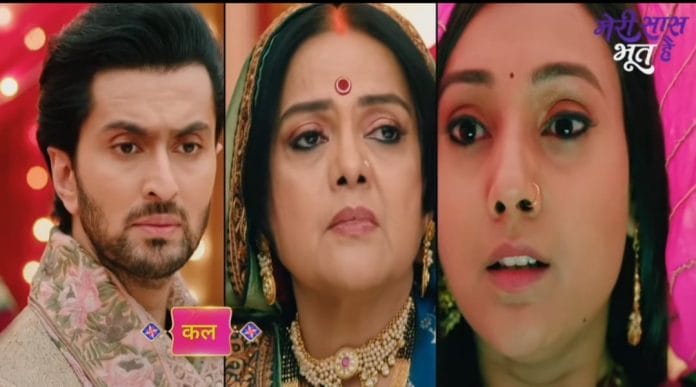 Meri Saas Bhoot Hai Upcoming Story, Spoilers, Latest Gossip, Future Story, Latest News and Upcoming Twist, on Justhowbiz.net

In today's episode, Som recalls Rekha's words and plans to make Gaura happy. Rahul comes to meet Twinkle with red roses. Twinkle tells her father that she doesn't want to meet Rahul. She asks her father to give excuses to Rahul. Her father informs Rahul that Twinkle is not at home, has gone for shopping and left her mobile at home. Rahul leaves. He thinks that Twinkle is at home only as girls can forget their lovers but not their phone. Twinkle becomes happy as Rahul leaves. Som decorates Gaura's room with lights to make Gaura happy.
Rekha doesn't like it. Gaura comes to her room and gets surprised. Som says that he did all these for Gaura. Gaura thanks Som. Som wishes to go and release Laxmi from the jail. Gaura says that she is out of jail. Som gets doubtful. Rekha alerts Gaura. Gaura says that she called Harish, informed him about the jewlery so he went to police station and released Laxmi. Som leaves. Gaura looks happy. Rekha asks Gaura to forget all these and do another work for her. She asks Gaura to make Ramesh understand her value in his life.
Gaura says that she has one condition. Rekha is in disbelief. Gaura asks Rekha about Twinkle's indentity. Rekha asks her to stay in limits as she won't share this piece of information with her. Gaura says that she herself will find Twinkle's adress, meet her and inform her that Som belongs to her, none else can get him ever. Rekha ask Gaura to keep dreaming as Som will never accept her. Gaura says that her dream will soon come true and both Som and Rekha will accept her wholeheartedly. She prays to God to do a miracle so that she and Som come together and become one.
Water drops on her saree from a kalash. She gets worried. Rahul discuss about Twinkle with Kanchan. Rahul asks Kanchan to suggest him ways to win Twinkle's heart. Gaura hears their conversation. Rahul doesn't understand Kanchan's words. Gaura likes Kanchan's words and feels lucky to have her in life. Kanchan asks Rahul to love everything that are close to his lover. Gaura gets an idea and says that now she will make Som hers entirely. She keeps Som, Rekha's photograph with an apology note in her room.
Rekha sees it. Gaura explains about it to Rekha. Rekha mocks Gaura and asks Gaura to remove the candle. Gaura doesn't agree. Rekha blows and makes the note and picture catch fire. Gaura freaks out. Som comes there and lashes out at her for burning his and Rekha's picture. He asks Gaura to leave the house if she hates his mother so much. Gaura cries and gears up to leave. Rekha says that she has already warned Gaura and asks her to stay away from Som for her own benefits. The episode ends.
Precap – Rekha plans to teach a lesson to Ganga next in order to take revenge against her. She blames Ganga for her misery and says that she wont leave her.
Click to read
Meri Saas Bhoot Hai 23rd March 2023 Written Update: Som apologies to Gaura