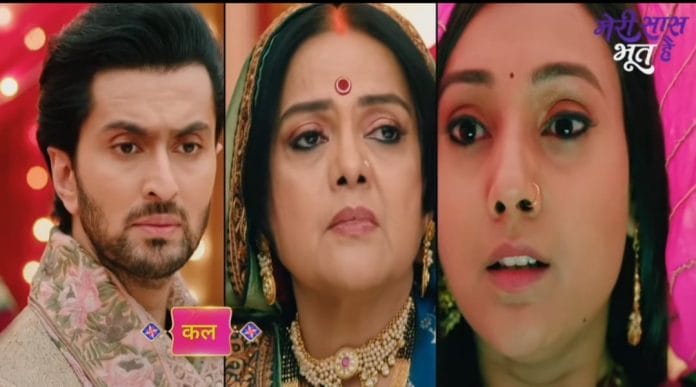 Meri Saas Bhoot Hai Upcoming Story, Spoilers, Latest Gossip, Future Story, Latest News and Upcoming Twist, on Justhowbiz.net

In today's episode, Rekha shows Ramesh and Titli to Gaura. She asks Gaura to shout loudly so that whole family gathers there. Gaura feels ashamed and says that she can't do it. Ramesh says that all the sarees belong to Rekha. Titli wears Rekha's saree. Ramesh flirts with her. Gaura says that she can't even look at it and closes her eyes. Rekha forces her to open her eyes but in vain. Rekha decides to help herself. She goes inside and possesses Ramesh. Ramesh pulls Titli's ears and criticizes her. Titli gets shocked. Gaura understands that Rekha has possessed Ramesh. Ramesh beats Titli. He plays musics and dances. He beats her again.
Titli cries. He forcefully tries to remove the saree Titli is wearing. Titli asks him to spare her. Ramesh gets a hunter and threatens Titli to dance infront of him. He dances with Titli. Gaura sees everything and wonders what all Rekha will make Ramesh do. She gears up to leave. Ramesh asks her if she has called the family members yet or not. Gaura asks Rekha how she possessed Ramesh. Rekha says that she wishes to expose Ramesh's real charecter infront of the family members and Som especially. Titli tries to run away. Ramesh follows her.
Rekha comes out of his body. Ramesh sees Gaura and wonders if she has seen him with Titli. He feels Rekha's presence near him. Rekha says that she won't go away from him until he comes at right track. She regrets for not being able to expose Ramesh today due to Gaura. She confronts Gaura. She questions Gaura for not helping her out today. She criticizes Gaura saying that she can't understand the value of relations as her own relationships are weak. Gaura gets hurt and cries. Rekha asks Gaura to remove the chokar marks which she made earlier to scare Kanchan.
She feels good about her spooky superpowers. She wonders if she can possess Gaura and teach lesson to Ganga and Kanchan or possess Ganga to teach lesson to Kanchan. Chandu mentions about Twinkle infront of Som. Som asks him to not do it. He wishes to wear a shirt chosen by Rekha for him once. He notices that one button is broken and leaves it on the table. Gaura sees it. She decides to fix the button and make Som happy. She feels confident about winning the hearts of Som gradually. Ramesh asks Ganga if she believes in ghost. Ganga says no and asks him the matter.
Ramesh says that he feels Rekha's presence around him. Kanchan says that she felt the same last night. Her husband supports her. Kanchan says that there is chokar marks in the house. Chandu recalls Rahul's words regarding Rekha's ghost and gets scared. He gears up to leave. Rekha stops him. He requests her to leave him as he always helped Rekha. He says that he will follow her every instruction. Ganga says that she will call pandit to get a remedy of Rekha. Rekha says that none can kick her out of the house without her will. The episode ends.
Precap – Ganga calls Pandit home. He asks Som to drop Rekha's ashes in the river. Ganga asks will it work. Pandit says yes. Rekha says that she won't let anyone drop her ashes in the river.
Click to read
Meri Saas Bhoot Hai 27th March 2023 Written Update: Rekha seeks Gaura's help