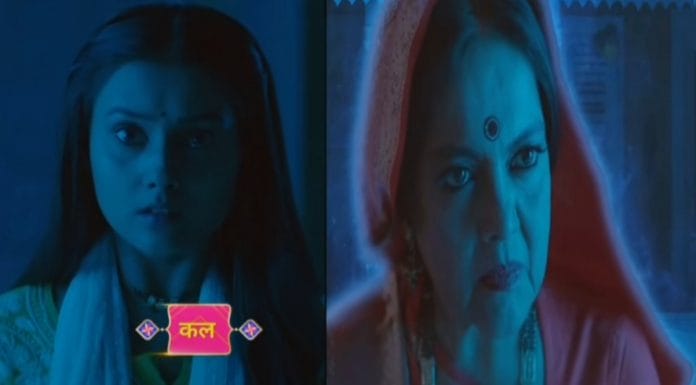 Meri Saas Bhoot Hai Spoilers, Upcoming Story, Latest Gossip , Future Story, Latest News and Upcoming Twist on justshowbiz.net

Star Bharat's recently launched show Meri Saas Bhoot Hai is a horror comedy show which revolves around Gaura and her mother in law Rekha. As Som and Gaura are married and Rekha has already become a ghost post her sudden death it will be interesting to see the equation of a ghost mother in law and human daughter in law.
In the previous episode, Ganga rests soundly in her room. Rekha employs various methods to disrupt her sleep. Rekha requests that Gaura drop her off at Som's room. She transforms into a butterfly and sits on Gaura's back. Gaura delivers Rekha to Som's room. Rekha requests that Som bring her a daughter-in-law of her choosing. Gaura begs Rekha not to say anything in front of her because she feels bad. Rekha tells her to go to bed.
Rekha tells Som that she didn't like what he did previously for Gaura and asks him not to be a romantic husband to anyone. Rekha attempts to wake Gaura up and expresses a desire to play with her. Kanchan awakens after seeing Rekha's wheel chair in her fantasy. She informs her spouse of the situation. Kanchan exits the room to fetch water. She becomes terrified when she sees the wheelchair again.
Kanchan feels chilly after passing through Rekha's ghost. In the kitchen, she notices a smouldering candle. Rekha places a matchstick package in front of her. She becomes terrified. Outside, she notices a phantom person playing a child's game. Rekha blows air, causing Kanchan to release water. Kanchan thinks if Rekha's ghost is responsible for all of this. Kanchan goes back to her chamber. She tells her spouse everything. He, too, is terrified.
They make the decision to slumber. Ramesh sneaks his partner home late at night. His girlfriend requests that he take her home as his bride. Rekha intends to give them a lesson. She requests Gaura's assistance in carrying out her scheme. Ramesh gives his partner Rekha's sarees. They exchange hugs. Gaura notices them.
In the upcoming episode, Ramesh spots Gaura. Gaura confronts him. Ramesh asks her to not inform about him and his girlfriend to anyone. Gaura agrees. Later Rekha criticizes Gaura for not supporting her.
To know what happens next stay tuned to Meri Saas Bhoot Hai on Star Bharat/Hotstar and this space.