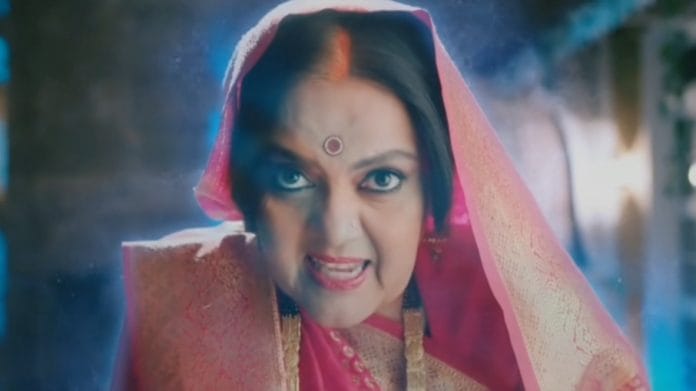 Meri Saas Bhoot Hai Spoilers, Upcoming Story, Latest Gossip , Future Story, Latest News and Upcoming Twist on justshowbiz.net

Star Bharat's recently launched show Meri Saas Bhoot Hai is a horror comedy show which revolves around Gaura and her mother in law Rekha. As Som and Gaura are married and Rekha has already become a ghost post her sudden death it will be interesting to see the equation of a ghost mother in law and human daughter in law.
In the previous episode, Rahul meets Twinkle with a bouquet of red roses. Twinkle requests that her father apologise to Rahul. Rahul is informed by her father that Twinkle is not at home. Som adds lighting to Gaura's room to make her content. Rekha doesn't like it. Gaura enters her chamber and is startled. Som thanks Gaura. Som desires Laxmi's release from prison. Gaura claims she is no longer incarcerated.
Gaura looks pleased. Rekha requests that Gaura perform another task for her. She requests that Gaura convince Ramesh of her significance in his life. Gaura reveals that she has one requirement. Rekha is unwilling to divulge any information. Gaura states that she will locate Twinkle's address, meet her, and inform her that Som is hers and that no one else will ever have him. Gaura asserts that both Som and Rekha will embrace her with open arms.
She receives an idea after hearing Rahul and Kanchan's conversation. She maintains a photograph of Som and Rekha, along with an apology note and a red candle, in her room. Rekha ridicules Gaura and requests that she remove the candle. Gaura doesn't concur. Rekha blows, igniting the note and the photograph.
Som arrives and lashes out at her for burning the photograph of him and Rekha. He asks Gaura to exit the house if she truly despises his mother. Rekha requests that Gaura avoid Som for her own benefit.
In the upcoming episode, Rekha plans to teach a lesson to Ganga next in order to take revenge against her. She blames Ganga for her misery and says that she wont leave her.
To know what happens next stay tuned to Meri Saas Bhoot Hai on Star Bharat/Hotstar and this space.