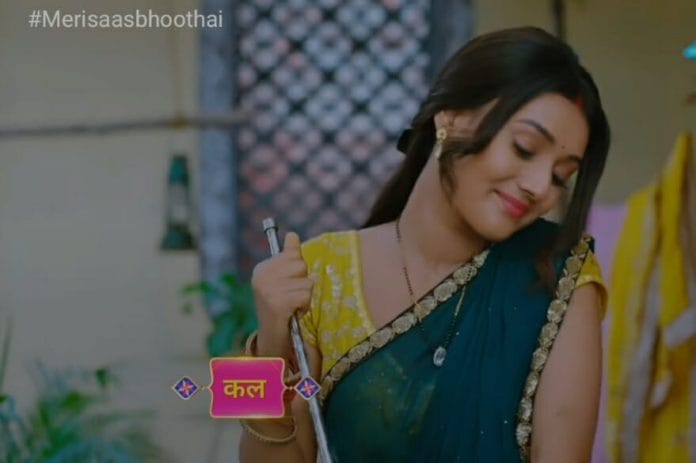 Meri Saas Bhoot Hai Spoilers, Upcoming Story, Latest Gossip , Future Story, Latest News and Upcoming Twist on justshowbiz.net

Star Bharat's recently launched show Meri Saas Bhoot Hai is a horror comedy show which revolves around Gaura and her mother in law Rekha. As Som and Gaura are married and Rekha has already become a ghost post her sudden death it will be interesting to see the equation of a ghost mother in law and human daughter in law.
In the current track it shown that Som decides to do something to calm down an angry Twinkle. Meanwhile Gaura gets a job in a dhaba to clean the utensils. Rekha asks Gaura not to take that job but Gaura decides to take it. Rekha gets upset when Gaura refuses to take her help to clean the utensils.
Som faces difficulty to make payment using online. Rahul pretends to help Som then leaves the place saying there must be server issue. Later, Som apologises to Twinkle and promises not to hide anything from her anymore. Also shares his plan to go to honeymoon today itself and asks her to go with him to shopping. Twinkle gets happy.
After shopping, Som faces difficulty in making payment there too so he calls his bank and learns he don't have enough money in his account. The shop keeper insults him and throws him out. Twinkle feels humiliated. Som gets furious. Rahul vows to destroy Som.
Gaura receives her first salary and gets happy. The dhaba owner hire her as a cook also gives her place to stay. Som confronts Rahul. Kanchan gets angry and worries seeing Som's behaviour towards Rahul.
In the upcoming episode, it will be shown that Gaura will be seen happily working in a dhaba. Rekha will be with her but looks upset. Som will see Gaura in the dhaba while he crosses the dhaba. He will wonder what Gaura is doing here. Gaura will life a heavy utensil. Rekha and Som will stare at Gaura.
Will Som question Gaura for working in the dhaba?
To know what happens next stay tuned to Meri Saas Bhoot Hai on Star Bharat/Hotstar and this space.