Show Yeh Rishtey Hain Pyaar is currently focusing on the emotions of Abir and Mishti. Mishti decides to move on in her life and agrees to marry Nishant after Vishambhar asks her to do the same.
Here, Abir decides to win back Mishti after learning Meenakshi and Kunal's act. Though, Meenakshi is trying her best to keep Abir away from Mishti but Kunal is now supporting Abir over Meenakshi. Kunal takes the side of Abir and helping him out to win back Mishti. But now Mishti don't want Abir back in her life and her first reason is Vishambhar whom she has already promised. Well, we all know that Mishti loves Abir but she equally loves Vishambhar.
Now the question is what Mishti should do to convince Vishambhar. To know about the same we asked Yeh Rishtey Hain Pyaar Ke fans to suggest the best way to Mishti as what she should do to convince her bade papa.
Here are the top 5 ways which Mishti can do to convince Vishambhar as per the fans. Check out the comments below!
Abir nd mish together should talk to BP abir needs to tell whole truth that y he broke up with mish nd assure him that he wont leave mish again he will always be there with mish can tell her BP dat she loves abir nd cant marry nishant as loveless marriage is never successful she cant spoil nishant nd her life
Kuku should tell the truth to Mishti why Abeer break Goddhana .Then Mishti & Abeer should talk to each other without breaking each other's conversation. No communication gap. & if they both tell bade papa the truth, he will definitely trust Abeer as he trusted him earlier.
Mishti should tell the truth that abir left mishti because of big ben and she still loves him .. she should say that she was going to sacrifice her love and was going to marry nannu but she didn't do it because she cannot stay happy with him as she can stay with abir .. she should also confess that she doesn't love nannu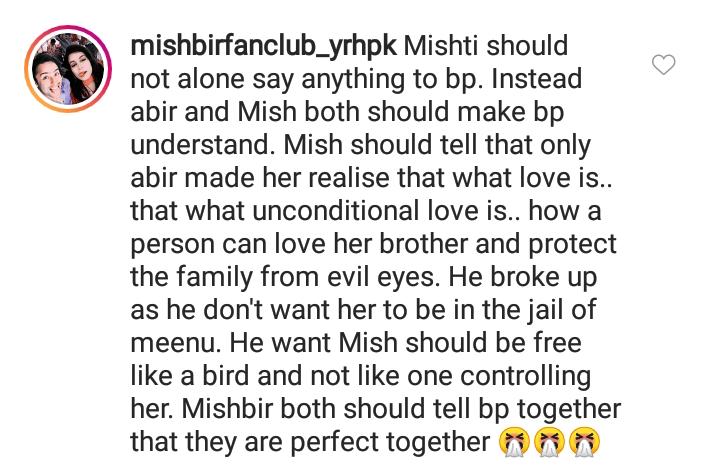 Mishti should not alone say anything to bp. Instead abir and Mish both should make bp understand. Mish should tell that only abir made her realise that what love is.. that what unconditional love is.. how a person can love her brother and protect the family from evil eyes. He broke up as he don't want her to be in the jail of meenu. He want Mish should be free like a bird and not like one controlling her. Mishbir both should tell bp together that they are perfect together 🤧🤧🤧
Mishti should just say the truth to her bp that she loves abir . She never forget him . She was not able to forget him because he realized her the difference between pyaar and ehsaan . She should remind bp all good things of abir that He done for her . MishBir should together go to bp and convince them that there love is true . Bp is nice father he will surely forgive abir and Mish will convince her bp
Stay tuned with us for more news spoilers and latest updates.
Check out more replies below!