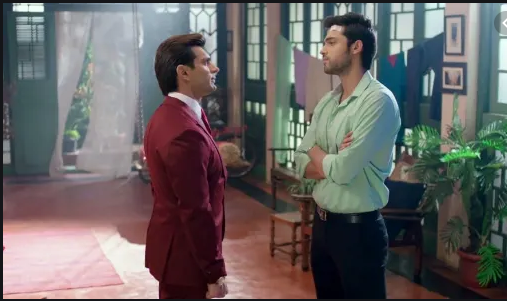 Drama is high in Star Plus show Kasauti Zindagi Kay. At one side Komolika regains her consciousness. Other side, Anurag finally learned Prerna and Mr. Bajaj's marriage truth.
Anurag prays in front of God to show him the way so that he can bring Prerna back in his life. There, Prerna confronts Mr. Bajaj and recalls how she has accepted his marriage proposal for the sake of Anurag.
Prerna and Bajaj's conversation gets recorded and Anurag stands shocked hearing Bajaj and Prerna's marriage truth.
Now in the upcoming episode will see Anurag will confront Mr. Bajaj and later, he will challenge Bajaj and will say that he will bring Prerna back into his life anyhow.
Prerna will cry before Mata Rani and will ask her why is she doing all with her and now that she can't bear anymore. Meanwhile, Here Shivani and Anurag will watch Prerna and Bajaj's confession video. Shivani will blame herself. Anurag will blame Prerna for taking this decision. Anurag will tell that he plead before her for love while she sacrifices herself for his sake.
Later, Anurag will ask Shivani to go home and will ask not to say anything to Prerna. Meanwhile, Anurag will reach home and will confront Prerna there and will tell that he knows everything but Prerna will be in asleep. Later, Aman and Roshni will arrive at the Basu Mansion. Meanwhile, at hospital Komolika will be in a state of denial regarding her facial transformation. Later, Anurag will challenge Mr Bajaj that he will expose him and will bring Prerna back into his life.
What more twist and turns will come in the show will be interesting to watch.
What Bajaj will do next to separate Anurag and Prerna? What will be Komolika's new move against Anurag and Prerna? Well, time will only tell, for all the answers keep watching the show, mon-fri on Star Plus.
Stay tuned with us to read more news, spoilers and latest updates of your favorite daily shows.