The makers of Machine have launched the trailer of the film and it looks incredible. The film that features debutant Mustafa and Kiara Advani, looks like a cool, new-age love story filled with action, drama and twists and turns.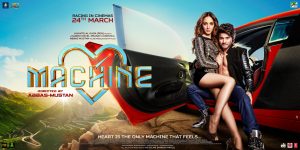 Not only does Mustafa stun you with his dapper look, but the conviction with which he delivers his dialogues makes you wonder if this really is his debut! Kiara looks beautiful and their romantic moments in the trailer are to die for. The actors also rock the dance floor with a rendition of Kishore Kumar's classic Ek Chatur Naar.
What makes this a trailer that stands out is that it makes you want to watch the film. We want to know why Kiara is holding a gun and also does she die when she falls off? Is that why Mustafa is seen crying? So many questions that can only be answered once you watch the film!
Be it action, dance or his perfectly sculpted body, Mustafa comes with the whole package and we're sure that the debutant will become a superstar in no time. And with this trailer, Kiara Advani has proved that she is here to stay!
Watch the trailer here:
Jayantilal Gada (PEN) presents, A Haresh Patel – Pranay Chokshi & Abbas Mustan Films Production Pvt Ltd,Produced by AD films (Haresh Patel), Pranay Chokshi, Dhaval Jayantilal Gada (DG) and Abbas-Mustan,  Machine starring Mustafa, Kiara Advani, Carla Dennis and Eshan Shanker and is directed by Abbas – Mustan Releases on 17th march 2017.