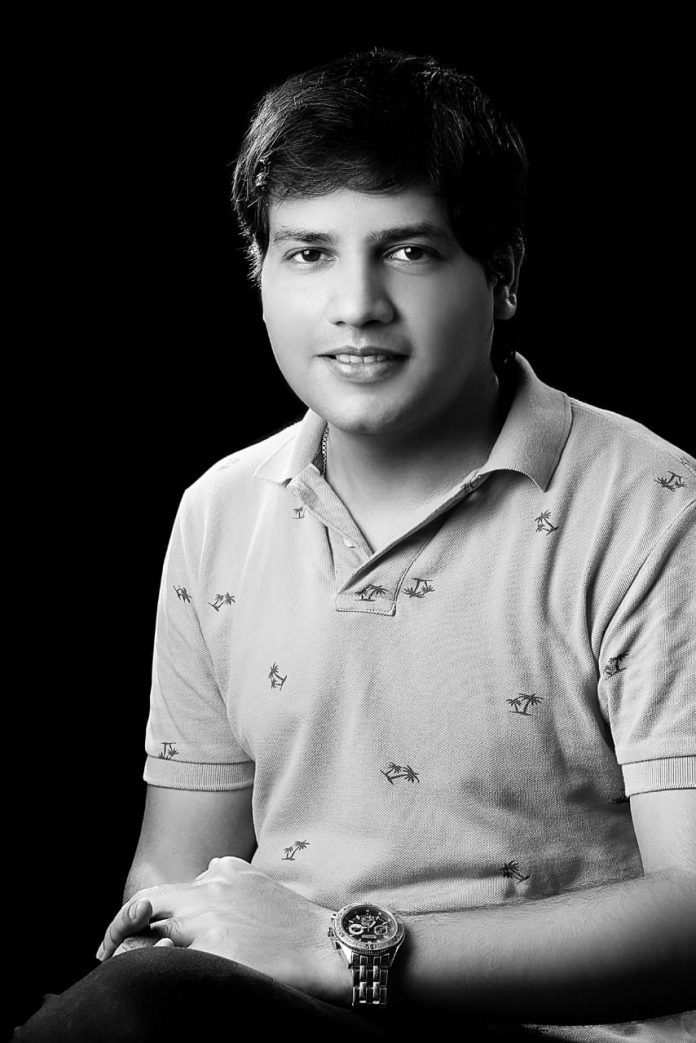 Talented and young fashion and fitness photographer and a cinema enthusiast Ajay Kumar has a very interesting and amazing success story. After doing graduation in mass communication and MBA in marketing, Ajay worked from media houses as a journalist to corporate jobs to his passion – fashion photography. He started photography in August 2016 and till now have done many successful and unique shoots with many top fashion models in Delhi and Mumbai. Apart from shooting with models, Ajay has also shot with TV and film actors like Pooja Pihal, Neel Motwani, Yash Pandit and Arjun Singh and Aparshakti Khurana. Ajay didn't just stop with just clicking pictures for models and TV actors, his achievements also include male calendar shoot with models of Mumbai and Delhi and shooting Peter England Mr. India finalists. What makes Ajay's photography different is the uniqueness of his work and his willingness to do something different with every photo shoot. His goal is to be a renowned name  in fashion photography and filmmaking. In an exclusive chat with JustShowbiz, photographer Ajay Kumar talked his heart out about the style of his photography, what makes it different and his journey from a journalist to a fashion photographer.
You have come a long way from journo to a photographer. How did this journey start?
After studying Mass communication and Business Studies, I worked as a journo, then I moved on to do corporate jobs. I always wanted to do something creative, so after working with some companies, I decided to buy a DSLR camera and joined a short course to learn the workings of the camera. I had friends in the industry who were into modeling and acting, so got a chance to click a very good model in Mumbai and when the pictures were out, I received lots of love and praise from the industry people. From that I gained confidence that I can achieve something in this field.
Share with us your first shoot experience.
It was very much unplanned. One of my friends told that model about me. It was just half an hour shoot at the Versova beach. I clicked randomly. It started raining also. So it was a very good unique experience and the model also was very experienced.
In your first photo shoot did you have any experience about how the stylist, makeup artists and designers etc work before a photo shoot?
I was very raw at that time. Though I had friends who are in modeling, styling, acting and makeup, so I had an idea but I didn't do it before so practical experience was not there. Even I haven't assisted any photographer as well. I just used to visit the sets of my friends who were into acting and direction.
Who are your favorite designers in the industry?
There are many. Two labels Mehraab and Huemn have amazing designs and I love their clothes. Mehraab caters to men who are traditional yet experimental and progressive. Huemn is ready to wear fashion label, very unique, young and dynamic. I am also fan of the work of Siddharth Tytler, Varun Bahl and Rohit Bal. They are very well known designers in the fashion industry.

With whom do you dream of working from the Bollywood industry?
In Bollywood, I would love to shoot with Ranveer Singh as his style is very unique, Ranbir Kapoor, Priyanka Chopra and Deepika Padukone too. Their style is very much international.
What in your opinion is your unique style of photography?
I try to keep every picture different from the rest of my pictures; I try not to repeat the style of my earlier clicked pictures. I don't take reference from the pictures shot by international photographers too. Even models insist me if I can send some reference pictures to them, but I tell them that I don't work this way as I can't copy. I create looks for models accordingly and plan the photoshoot according to the original style and attitude of the actor or model.
Fashion is a glamorous world. Can you say the same thing about the inside world of fashion circle?
Ofcourse, fashion is a very glamorous world, but backstage or behind the camera, there is a lot of hard work. People only see models walking on ramp or in glamorous pictures but hard work that models, photographers, stylists designers and other team members do before the shoot or ramp walk, it needs a lot of dedication.
Who are your favorite models?
All those with whom I have worked with, all are my favorite, all are nice. I can't name one. Pooja Pihal, Zeeshan, Anand, Vishal, Arjun, Hazim, Mubarak, Yash, Sehaj, Amit all are awesome.
What is that one best compliment that came to you from model's end which you will remember forever?
It usually happens that when they see the pictures, they text and appreciate. One model said that I don't do much editing, and all my pictures are different from my last shot pictures, another one said that he waits to see my pictures. I got a call from someone that soon I'll be on the top. Someone even said this that he wants to shoot only with me and I can change his life (laughs).  All these compliments encourage me.
If you get a chance to shoot with someone from Hollywood, who would it be?
I'd love to shoot with Scarlet Johnsson, Jennifer Lawrence, Julia Roberts, Anna Hathway and Kate Winslet. In men, I would love to click for  Robert Downey Jr. and Dwayne Johnson. I think their style is very unique.
Do you like to party?
I prefer house parties. But if I want to go to some club, then I mostly visit Kitty Su and Privee.
What message do you want to give to all the aspiring models who want to do a portfolio shoot?
I'd love to tell them that whenever you want to start in the fashion industry as a model, be prepared that along with a good face it needs a lot of hard work and dedication. You should be well groomed. Your first impression is your last impression. So enter with a good portfolio and a unique style of your own. Get your folio done only from that photographer who can guide you properly and help you with contacts. Next thing I would like to suggest is whenever you approach people for work, be humble to them. Don't try to flatter them but be yourself. Don't fake or copy any style, be real and be unique in your own way.
Modeling Photography done by Ajay Kumar: