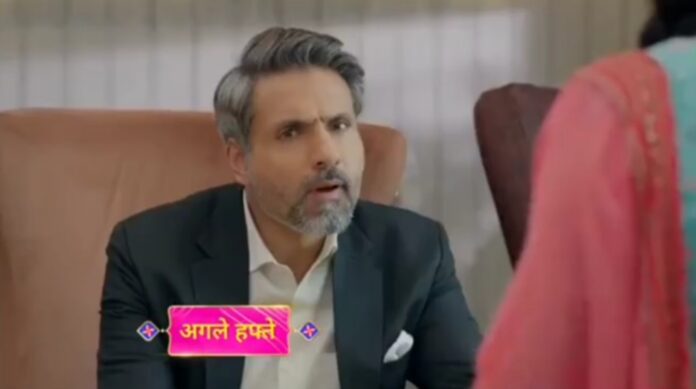 Na Umra Ki Seema Ho Spoilers, Upcoming Story,
Gossip , Future Story, Latest News and Upcoming Twist on justshowbiz.net
Na Umra ki Seema Ho is newly launched show of Star Bharath. This show showing Vidhi, a young woman falls in love with a middle aged tycoon Devratha! Now serial focusing on Vidhi to attend the Party
In Today's episode we see; Dev sharing with Amba that she might understand that he doesn't love her.
Amba walks away from his room furious. Amba takes Vidhi from there. She shares with Vidhi that she is giving one chance to prove her feelings for Dev. Doesn't she talked about her crush or infatuation on him. If he doesn't attend party there is no use. It's her responsibility to bring him to the party. She only have two days in her hand and leaves.
Later, Sathyavathi calls Vidhi and informs to her that they will visit her house to worship in temple. Vidhi assured her to arrange everything for them. Sathyavathi tells her that she is visiting her house casually. Dev comes there. Sathyavathi shares with him that Priya changed to sweet one after he attend the Jagratha. Dev clears with her that Amba is behind her change.
He doesn't know why she is listening her. Sathyavathi tells him that Amba may be the reason behind her change but God blessed her too. Vidhi is adamant to read the letter but Hariprasad tells her that he will read it for her. Meanwhile, Sathyavathi shares with Priya that they are going to visit temple. Will she accompany them?
Priya thinks that it's hard to pretended to be a good daughter in law. She assured them to visit temple. Later, Sathyavathi reached to Vidhi's house and finish their pooja. Urmila created a scene in home to impress Sathyavathi. Later, Hariprasad reveals the truth to Sathyavathi.
In the upcoming episode viewers will see; Vidhi will share with Dev that no one will attend the party without him. Later Vidhi will reach the party and search for Dev. Later, Amba will demand Vidhi to wear the modern clothes. Vidhi will refuse to do it. She will demand her to do it for Dev.
What will happen next? Will Vidhi find out the truth? When will Dev fall in love with Vidhi?
Upcoming episode will answer to our all questions stay tune with our space for more update.