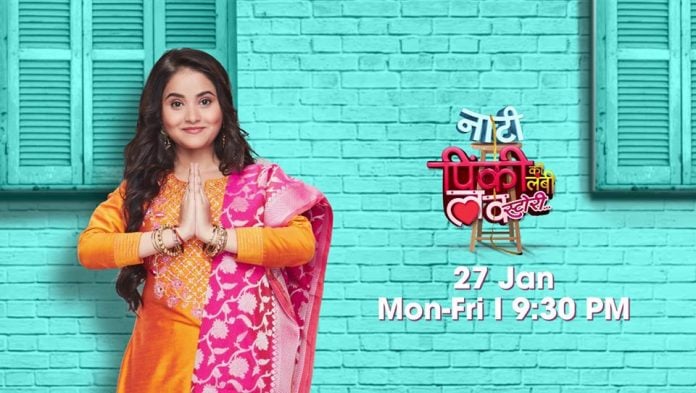 Naati Pinky Ki Lambi Love Story Upcoming Story, Spoilers, Latest Gossip, Future Story, Latest News and Upcoming Twist, on Justhowbiz.net
Episode starts with Sunny says Imarti is the one who bought your Amma to home. Arjun says Imarti dont know about my relationship with my Amma but you know it right. Imarti stops him saying don't say anything to Sunny Bhai, I'm the one who bought her.
Arjun asks what right you have? Imarti says she is my mother in law, I'm your wife and I bought her home. Arjun says name sake relationship and asks Sunny to book tickets to Amma.
Imarti shows Amma can't move and gives her belt to set her back. Arjun takes Imarti to room with help of umbrella. Imarti says why you bought me here and you told me many things which are against contract.
Arjun says you're also doing many things against contract bringing Mrs VenkatRaman here, that lady ruined my life snatching Ananya from me and she used to torture her. Pinky thinks Ananya never informed her about this.
Imarti asks what's clash between them. Arjun says his mom never accepted Ananya and Nandu and when she gets to know Nandu truth ,she ruined everything. Amma tries to listen from outside but she can't. Arjun says I told you info what you needed, I will give you more money but don't involve in this matter. Imarti says respect is more than money and she will break contract if she don't like things. Arjun says marriage is real. Imarti leaves from room saying you say it real and you only say it's fake.
Amma says Kanna this belt work for me right. Arjun asks to book tickets for Mrs VenkatRaman after 2days. Sunny asks which dress is good and asks him to do like Imarti said. Arjun follows Imarti Nd gives her lyrics paper for her singing competition. Imarti says did you remember. Arjun says you're also asking same question like Pinky.
Mrs VenkatRaman says to Kalyani that she will finish her plan and won't allow Nandu to get back in Arjun life.
Arjun asks her to practice lyrics properly and asks her to sing.
Imarti sings in wrong way than he teaches her how to pronounce words correctly than he apologizes to her for his previous behaviour. Imarti accepts his apologies.
Imarti practices the song with Arjun help. Pinky smiles seeing Arjun care and admires him and reminsces how he is fulfilling her dream boy qualities.
Pinky notices Ram is talking with Vikas. Pinky takes Ram blessings and asks Ram about his health. Ram says he is better. Ram feels uncomfortable while taking tea with left hand, Nalini feels bad. Vikas says Ram will gets fine with physiotherapy.
Ram informs Pinky and Nalini about his plan to arrange evening party so Vikas and Pinky understand eachother feelings. Nalini agrees. Pinky says she will prepare the food. Ram agrees.
Pinky says to Nalini that she always want to see her dad happy and thinks what dishes she have to prepare. At that time Arjun calls Imarti and asks her to come for photo shoot in the evening. Pinky gets tensed but agreed. Nalini asks what happened. Pinky told her everything. Nalini says what we have to do? Pinky says we have to face it and goes to kitchen. Vikas reaches to Kitchen and announces that he will help her and asks her to meet him outside. Asha gets shocked seeing him in kitchen. Pinky notices time is 6 and goes out asking Vikas to cut the veggies.
Sunny says everything is ready for photoshoot and I gave sleeping pill to your mom according to doctor suggestion so gets ready. Arjun says he can't wear those kinds of clothes. Imarti enters saying you will look same in every occasion or what! Go and get ready I don't have much time. Arjun wears that shirt and sits far from Imarti. Sunny asks them to sit near for photos. He clicks one pic and than asks Arjun to place his hand on Imarti shoulder. Both looks uncomfortable