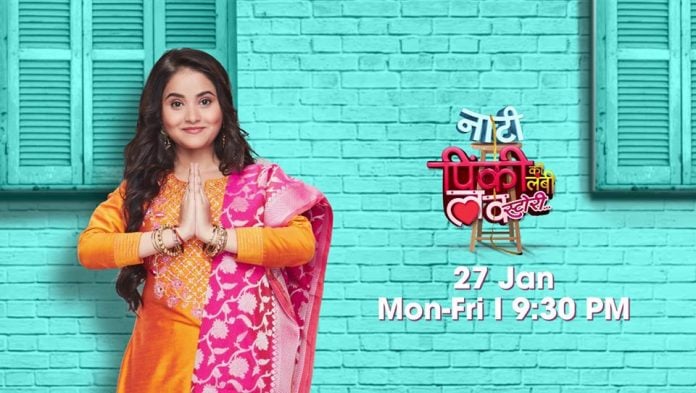 Naati Pinky Ki Lambi Love Story Upcoming Story, Spoilers, Latest Gossip, Future Story, Latest News and Upcoming Twist, on Justhowbiz.net
Episode starts with Revati goes to Arjun room. Arjun asks what are you doing. Revati says I'm correcting my mistake and I don't want to miss your moments anymore and want to celebrate because you're settling in your life again.
Arjun says don't say in this way. Sunny and Revati asks what's his problem. Arjun says he can't thinks about Pinky in that way. Sunny asks what's wrong with her. Arjun says she is good hearted person who cares for everyone.
Revati asks him to tell what's his problem and asks didn't you like Pinky. Arjun leaves. Sunny says he us not answering. Revati says Arjun didn't said he don't like Pinky and he just need push to expresses his feelings. Sunny says it's not easy.
 Revati says Pinky can do it. Sunny says ok. Revati thinks sometimes we have to bring people closer to separate them perminantly and I'm going to separate Pinky from Arjun.
Antara calls Pinky and asks about Pinky hand. Pinky says I'm tensed thinking what's Arjun is thinking. From behind Revati says it's good to know someone loves my Arjun so much and you have to take some effort to know what's happening in Arjun's heart.
Antara says how you know. Sunny says Arjun is old fashioned but he will say what we want to heard. Antara says I can trust you but can't believe Revati. Sunny says Revati us joined their team and asks Antara to come inside to make perfect plan. Antara agrees and thinks to unite Pinky with Arjun.
Revati asks Pinky to propose Arjun and leaves. Antara says is something happened to Revati. Sunny asks her to leave her. Antara says now Pinky will propose Arjun first following the rule ladies first. Pinky gets tensed but Antara encourages her.
They decorated room. Pinky shows she bought Arjun favourite book for him as gift. Antara says good. Revati praises their decorations and informs them Arjun is in the way and takes Nandu and Sunny with her to have ice cream. Sunny leaves after wishing Pinky all the best. Revati changes Pinky gift before she leaves to outside.
Antara asks her do rehearsals for proposal. Antara becomes Pinky and Arjun, Pinky acts like Arjun. Antara proposes her like Pinky and Pinky accept it. Antara says Arjun will accept her love. pinky asks her to make her get ready. Antara happily makes her ready.
Arjun reaches to home and notices the decorations. Pinky comes near him and proposes him in Tamil, says he is her love feeling who teached her to stay happy and informs him that she can't stay without him. Arjun looks on. Pinky makes him sit on the chair and presents her gift saying she loves him.
 Arjun opens that gift and notices name plate of Lavanya VenkatRaman. Arjun gets angry saying you lost your mind and ruins her decorations saying how dare you gift me that one, I never thought you will be desperate.
Revati comes back to ho.e with Sunny saying she forget to take her purse and enjoys while Arjun is insulting Pinky. Arjun says your mind becomes short like you. Pinky says than why you bought me house and helped me whenever I'm in problem.
 Arjun says he is pity for her that's why helped her but question is  how can she consider his sympathy as love and says she no where near his Ananya so he want her to leave from his life.
Click to read:
Naati Pinky Ki Lambi Love Story 15th September 2020 Written Update: Pinky confesses her love to Arjun