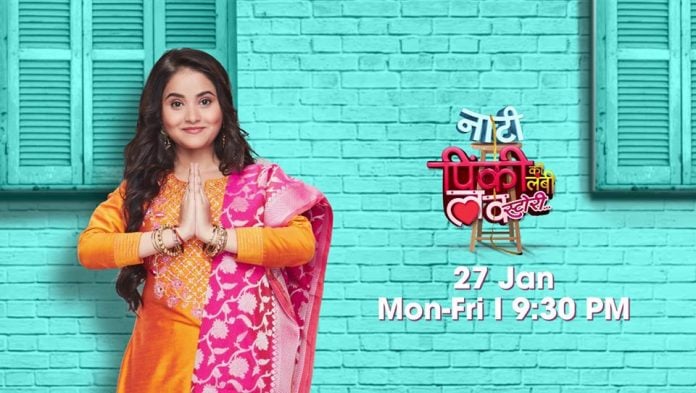 Naati Pinky Ki Lambi Love Story  Upcoming Story, Spoilers, Latest Gossip, Future Story, Latest News and Upcoming Twist, on Justhowbiz.net
The episode starts with Nandu leaves for her class. Sunny says Bangh worked in good way, isn't it? Pinky says it didn't happen like what you thought, I'm happy because Arjun expressed his love feelings for me. Sunny says it's best news in lockdown and he goes to inform this to Antara on call. Revati gets angry and thinks she will not leave this Pinky who's oversmart. Arjun smiles while reminscing his moments with Pinky and thinks Pinky is the reason that Nandu and his lives are filled with happiness and he thinks to live with her for lifelong.
Sunny says to Antara that her laddo worked like magic. Bua asks what are you saying, I will come there and meet Pinky. Than she thanks god for starting Pinky love track and prays to cure her brother.
Arjun on call ask someone to decorate house romantically because he gonna propose someone. Sunny hears him and says he learnt many things from him.
Arjun takes his shirt. Pinky says that shirt won't have button. Than he takes another shirt than Pinky says no iron. Arjun asks her to tell which is good. Pinky gives him shirt. Arjun says thank you. Both sets bed than notices Nandu under bedsheet. Pinky and Arjun goes under bedsheet. Nandu asks them to kiss her. Both comes closer to kiss her but Nandu moves backward and Both looks at eachother and comes out.
Antara meets Pinky and asks her to live every moment saying it's her good time. Sunny says he heard Arjun's proposing plans. Bua gets happy.
Nalini takes gun and thinks to finish the reason for her problems and goes to Arjun and aims gun at him. Sunny says god is planning to set Pinky life in romantic way. Pinky gets tears. Antara asks what happened. Pinky says she is missing her parents in her happy moment and asks about them. Antara says they are fine and asks Pinky to plan return surprise for Arjun.
Nalini asks Arjun to kill her. Arjun stops her. Nalini says what I have to do? Pinky father health is not good and he can have stroke too and to cure him Pinky must get back to us after divorcing you, I beg you please return our Pinky. Arjun looks on.
Pinky admires decorations. Antara praises Arjun decorations. Sunny says that's why people call us best organisers. man delivers Arjun's parcel to Pinky. Antara and Sunny asks her to try that ring. Pinky wears the ring and shows to them. Antara says its beautiful. Sunny praises Arjun choice.
Arjun reaches to home. Pinky smiles. Arjun notices the ring box empty and sees Pinky wearing the ring. He takes the ring from her finger which shocks everyone. Arjun smiles seeing some lady. Arjun goes near her and proposes her. lady accepts to marry him. Everyone gets shocked when Arjun makes her wear the ring. Pinky says who's she, what kind of joke you're playing. Arjun says meet the love of my life Parul and we gonna marry eachother very soon. Pinky says you are lying because last night you expressed your love to me. Arjun says you don't know me, she is my childhood friend. Pinky says maybe. Parul says I know you Lavanya, Arjun loves me not you. Pinky asks her to stay away from husband and wife discussion. Parul says marriage with cheating is not considered as real one. Pinky asks her to not involve. Arjun scolds Pinky. Pinky asks than why these decorations. Parul says these decorations for Parvati not for Pinky. Pinky says you can't do this to me. Arjun says stop and leaves. Parul ask them to show her room. Revati takes her to show her room.
Pinky cries saying he is lying, he told me he loves me. Bua says yes, he told me that he loves you and took promise from me to not reveal it you. Pinky cries saying Arjun is lying. Antara consoles her and asks her to don't lose her courage.
Arjun goes and cries thinking I'm sorry Pinky, I don't have any option and reminsces how he promised Nalini to return their Pinky breaking their marriage. Arjun feels bad seeing Pinky in tears.