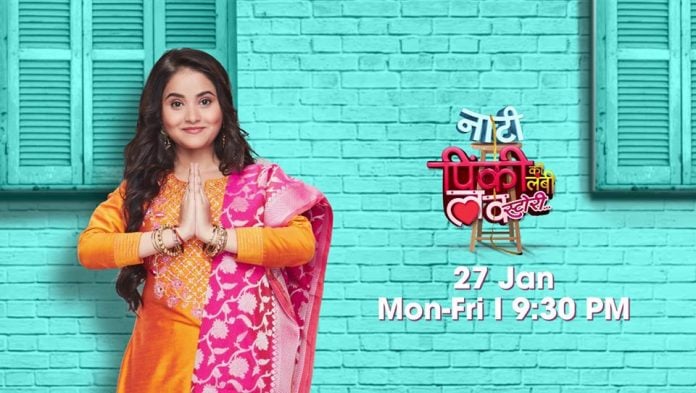 Naati Pinky Ki Lambi Love Story Upcoming Story, Spoilers, Latest Gossip, Future Story, Latest News and Upcoming Twist, on Justhowbiz.net
The episode starts with Parul says she will get the things she likes. Pinky says Arjun is not thing and asks her to have tea. Both drinks it even though it's worst. Arjun gets shocked seeing burnt roti than he notices Pinky letter asking him to have food saying Parul made it with so much hardwork. Arjun eats that roti and than drinks the tea.
Antara praises Pinky saying it's good punishment for Arjun to eat that burned Rotis. Pinky stops her. Antara says I know you will feel pain because I can sense your love for him and you will win your love. Pinky says it's not game, I just want Nandu and Arjun's happiness that's my success. Antara kisses her.
Nandu notices Parul is removing Ananya clothes from cupboard to place her clothes and asks who's she. Parul introduces herself to Nandu and asks her to forget old things for new. Nandu says but I can never forget my mom so please place your things somewhere and she Tores Parul saree while stopping her. Parul gets angry and says Im coming to your home as your mom than what's the problem to give me this cupboard. Nandu gets shocked. Arjun and Pinky reaches to room. Nandu leaves saying I hate you dad and leaves. Pinky goes behind her.
Parul says sorry. Arjun says I just asked you for one thing and you failed in it. Parul says Nandu tore her expensive saree. Arjun says you can use another cupboard right. Parul says Ananya won't use it so I thought to use it removing her things because I'm going to be your wife. Arjun leaves saying even Pinky never said something like this.
Nandu cries hugging Pinky saying she needs her. Arjun calls Nandu. Nandu says I just want Choti mom. Pinky explains Nandu to give some chance to Parul to know about her saying she is her dad best friend. Arjun and Parul smiles seeing how Pinky is explaining.
Pinky asks Nandu to learn Arjun childhood memories from Parul. Nandu denies to go than Parul goes to her and explains about Arjun college memories. Nandu gets surprised and asks Choti mom did you know Dad knows Guitar. Parul says your Choti mom don't know him from long like me. Revati says correct my Arjun is great guitarist. Parul asks him to play guitar for them the one she gifted her. Parul makes Nandu sit in her lap.
Arjun gets Guitar and asks which song he must play. Pinky says Tu najm najm. Parul asks him to play mu mi ki his favourite song. Arjun plays it. Pinky enjoys and imagines like he is playing for her and no-one is around them. Everyone claps for Arjun. Nandu asks more things about him. Parul enjoys with Nandu while saying their college stories. Pinky about to leave but Nandu stops holding her hand.
Revati says to Parul that she is her choice but Pinky came in-between and she asks Parul to not get insecure seeing Pinky with Arjun and she gives her tip saying win Nandu heart to win Arjun heart saying she is ready to help her. Parul says I don't need anyone's help because Arjun bought me here so I'm not scared. Revati says don't feel over confident, game can change anytime and Arjun's heart is with Pinky so I'm helping you. Parul asks her to tell the plan.
Revati gives Kundali to Pandit and asks him to tell their Kandli matched really well. Antara comes in between them and asks what's happening. Revati says Pandit cane to check Arjun kundli with Parul. Antara says it's gonna be entertaining and goes inside.
Pinky says Arjun won't believe it. Arjun sees everyone in hall and asks what's happening. Antara says your Mom is checking your kundli with Parul. Arjun says he don't trust it. Antara says Pinky is saying same. Arjun says Pandit came so let him check. Pandit says Kundli is matching very well and they made for eachother, according to Kundli these people marriage must happen before itself. Revati says you're correct.
Pandit says Lavanya kashyap and Arjun marriage bis written by god. Everyone gets shocked. Revati says you're mistaking the names. Pandit shows Kundli papers. Antara says maybe Kundli changed while I'm entering to the home. Revati scolds her saying you don't have no shame to change Kundli. Antara says you guys are besharam for doing another marriage. Pinky stops her saying she can't here anything against Arjun. Antara leaves saying ok.
Parul says why to waste time if Arjun won't believe Kundli. Revati asks Pandit to check Parul and Arjun kundli. Pandit says Arjun might get problems if he is married to Parul. Revati gets shocked. Pinky asks for remedy. Pandit says his wife must chant Mahamrutunjaya mantra and she have to write om everytime she finished Jap for 5001 times. Parul says it's already evening so it's tough. Arjun says don't need. Parul says problem solved. Pinky asks Pandit to tell the process so she can do. Revati says Parul have to do this jap not you. Parul agrees to do it.