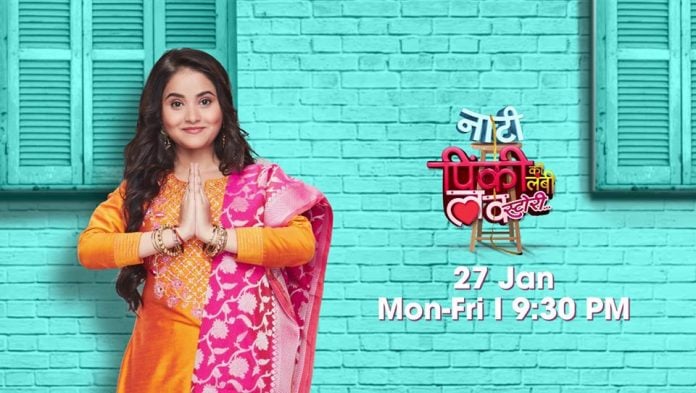 Naati Pinky Ki Lambi Love Story Upcoming Story, Spoilers, Latest Gossip , Future Story, Latest News and Upcoming Twist, on Justhowbiz.net
The episode starts with Pinky and Nandu plays with jam. Parul asks what you make me to do? What if something happens to Nandu. Revati says relax nothing happens to her. Parul says I want to remove Pinky from his heart but I don't want to break his heart and it's my mistake to trust you.
Revati says go than Pinky will get Arjun and you will loose your second chance to get Arjun. Parul looks on. Revati says it's not easy for you to make place in Arjun heart, did you see how he hugs her and she is playing to get more time to get close to him. Parul leaves saying she don't want to listen her.
Nandu writes Appa with jam and Parul tells down placing her leg on Jam. Pinky says sorry and offers help but Parul gets up. Nandu smiles. Pinky says sorry and asks Nandu to practice dance. Nandu says ok and will you participate in parent child competition with me.
Parul says im going to be your mom so I will participate with you. Nandu says no, Choti mom will participate with me. Pinky asks Nandu to don't forget she agreed to give chance. Nandu says don't know whether she knows dance or not. Revati says let's organise dance competition between Parul and Pinky than you can participate with winner. Nandu says ok and hugs Pinky saying she will win.
Dance competition of Pinky and Parul gets started. Arjun arrives with Sunny and asks what's happening. Nandu asks him to enjoy the competition. Both dances graciously but Pinky hand touches Parul cheek and she fell on Arjun. Parul says did you saw Arjun how Pinky is cheating. Sunny says you're Cheater because you came near Pinky place. Nandu says my Pinky mom is not cheater and I will participate with Choti mom only.
Revati says it's not correct to blame Parul everytime. Parul acts sad saying she is alone and Pinky is having everyone's support. Revati says Parul is going to be your wife so support her and here to train Parul but Pinky is using that reason to come closer to you. Pinky says no. Parul says agree your mistake. Revati says we know your dirty games. Arjun stops them and takes Pinky with him to room.
Pinky says Arjun is do you really feel I'm trying to defame Parul. Arjun says than why you're listening to them? Don't you feel bad. Pinky questions do you feel bad when you hear against me?I can see it in your face how much you're worried for me but I'm not understanding why you're marrying Parul. Arjun stops her and asks her to sign the divorce papers and leave him. Pinky says you're escaping my questions but I won't sign it until I saw your marriage with Parul and leaves from room.
Revati says did you saw how Arjun didn't take your side, don't know what magic Pinky done to him so to something or go to Chennai. Parul says I can't loose him in my second chance but your plans are failing. Revati says let's plan something big and calls someone and informs the plan. Than Revati says now Arjun won't leave Pinky because bits matter of Nandu.
Kalyani dashes with Antara and her money fells down. Antara takes money and gives to her. Revati men takes pics and sends to Arjun according Revati suggestion. Pinky sees Kalyani and Kalyani leaves. Antara asks do you know her. Pinky says she is betrayer. Antara says who's he clicking our pics.
Pinky follows him. Kalyani informs to Revati that work is done but Pinky is following our man. Revati asks Kalyani to do like she said. Pinky throws stone at him and he leaves phone and runs. Pinky sees Photos sended to Arjun and says someone one planning against them and runs to house to inform it to Arjun.
Revati gives coffee to Arjun and asks him to check his messages. Pinky dashes with Parul and asks about Arjun. Pinky goes to Arjun with Antara. Arjun sees photos. Pinky says let me explain. Revati says your plan is visible. Arjun says we can't blame them without listening to them.
Arjun asks what's Antara doing with Kalyani. Kalyani reaches to that place and says that Pinky called them and sends money with Antara to shut her mouth. Pinky says she is lying. Kalyani says Pinky is lying. Revati says I never expect that you do this to marry my Arjun, I'm ashamed.