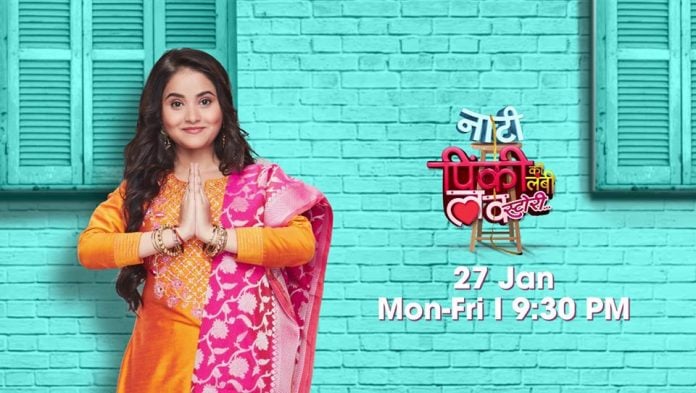 Naati Pinky Ki Lambi Love Story Upcoming Story, Spoilers, Latest Gossip, Future Story, Latest News and Upcoming Twist, on Justhowbiz.net
Episode starts with Revati says to Arjun that everything is Pinky plan and she may mingled with her family too because they can't see his happiness. Arjun asks Kalyani to tell the truth. Antara says what will this lier say. Kalyani says she did everything because of Pinky and shows Cheque given by Pinky.
 Arjun asks Pinky how can you betray me playing this game? Answer me. Revati says she did if for her father. Parul says you played with Arjun feelings for your family. Pinky says I didn't do it, won't you trust me? If feel I'm behind this than complaint to Police against me. Arjun says I will do it and today is your last day in this house and leaves.
Arjun calls Inspector. Parul comes behind him and hugs him saying I'm glad that her real face is revealed and she's sick. Arjun stays silent. Antara and Pinky stops Kalyani, she tries to run from them. Pinky says now police will arrest us so stay here. Kalyani throws Pinky and about to escape but Pinky follows her and caughts whole she is talking with Revati.
Revati says don't leak my name to police and you will get extra money. Pinky and Antara gets shocked. Inspector asks what's happening. Kalyani holds his feet. Antara about to reveal Revati plans but Pinky stops her saying Arjun can't bear it and asks him to arrest her. Inspector removes mask and it's turned to be Sunny and they gets shocked.
Arjun comes from behind and says you're not getting it right, I got suspicious on Mrs VenkatRaman from the start but it's confirmed after gas incident and reveals how he heard Revati convo and than he says I planned it with Sunny to reveal the truth. Kalyani begs them to leave her.
 Sunny says I will surrender you to police. Arjun asks her to leave saying big player is Mrs VenkatRaman. Antara asks didn't you doubted Pinky even for a second right. Sunny says Arjun's trusts Pinky more than himself. Pinky holds Arjun hand and asks him to forgive his Mom. Arjun  goes to home angrily than everyone follows him.
Arjun throws his Mom from his house. Revati asks why are you throwing me? What's my mistake. Arjun says how can Mom do this to his son. Revati says she did for him. Arjun says i kept you away from my life and that's correct because you don't deserve second chance because you're always against my loved ones.
 Revati asks him to forgive her saying her intentions are not wrong. Arjun about to go inside but Pinky begs him to forgive her. Arjun says Did you see how she is supporting you when you're in problem. Pinky asks him to forgive her. Arjun says she did crime not mistake and closes main door. Revati beats door and asks him to open the door and says you're also giving pain to your loved ones for their betterment than how mine is mistake.
Pinky goes to Arjun and tells him puzzle like Imarti. Arjun asks her to leave him alone. But she insists to answer, than he asks her to tell. Pinky makes him smile with her jokes. Both lost in eachother. Parul gets angry seeing their closeness and interrupts their moment and hugs him and asks him to take her out for change of their mood.
Pinky leaves from room and thinks don't know why Arjun is hurting me and himself, I'm not getting why he wants to marry Parul. Revati says do you want to know why he is doing it? Can I tell you. Pinky nods. Revati says he is doing this for your Mom.