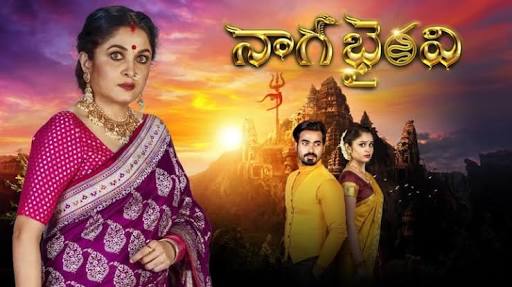 Naga Bhairavi Upcoming Story, Spoilers, Latest Gossip, Future Story, Latest News and Upcoming Twist, on Justhowbiz.net
Episode starts with Doctors inform to family members that their is no chance to save Shakuntala and leaves after telling them sorry. Sarath and Sanvi feels bad. Swami Yogi reaches near Shakuntala room. Sarath and Sanvi asks Swami where he sent Arjun? Than Sarath asks him is their any way to save his wife. Swami says their is one way, I told that remedy to your son. Sanvi asks what told him. Swami says I told him he can save his brother if he bring Sanjivani Mani that why he went to get it, if he brings it than your Mom can recover from this stage. Sanvi asks what if he won't get it. Swami says Shakuntala will die without Mani.
Arjun reaches to hospital, everyone feels happy seeing him. Arjun gives Sanjivani Mani to Swami than Swami goes to Shakuntala ward and he removes her oxygen mask than he places that Mani on her forehead while praying Lord Shiva. Everyone chants namah shivaya mantra. Patients and Doctors reaches near that room hearing Swami ji voice. Doctor stops Swami ji and asks them to leave from their hospital if they believes Swamiji more than Doctors. Swami says you already told that you can't save this patient than you don't have right to point me and you don't know how to remove doshas and doctor's can't even change the fate and get to know the mantra importance by witnessing the magic that's going to happen in a moment.
Swami prays to Lordshiva and Sanjivani Mani gets power with Lordshiva blessings and Shakuntala regains her life. Doctor feels amazed seeing Shakuntala heart beat is getting normalised than they tells it's really miracle and she is out of danger than they apologies to Swamiji for their previous behaviour. Swami forgives them by giving his blessings than he handovers Sanjivani Mani to Arjun and goes out giving his blessings to Shakuntala. Sanvi asks from where he get the Sanjivani Mani. Arjun tells her how he get it from Nagavaram Shivalayam. Sanvi feels amazed and thinks she missed the great opportunity otherwise she may enter with him to get the things she needed from that temple.
Arjun and Sarath thanks Swami for saving Shakuntala life. Swami gives them blessings and tells work is not yet finished, you guys have to perform Pooja to that Mani for 3 pournamis than only NagaDosham will get eliminated otherwise your Mom might face another risk so save this Mani carefully. Arjun says it's good if you keep this Mani with you and he gives that Mani to Swami. Sanvi feels bad and gets angry at Arjun when he gives that Mani to Swami. Swami leaves from hospital. Sanvi plans to get that Mani to achieve things in her life.
Aditya reaches to home and Veerabhadram men tries to stop him. Bujji notices his Dad and feels happy. Bhairavi asks Annapurna and Kaushalya to Dont stop the marriage. Bujji says Nanna than he goes to Mandap and stops Rudra by throwing his hands. Aditya overpowers those men. Jalaja throws Bujji than he throws Turmeric and Kumkum at his mom and signs them about his Dad. Aditya beats Veerabhadram men and enters inside shouting Bhairavi name. Kaushalya feels happy seeing Aditya.