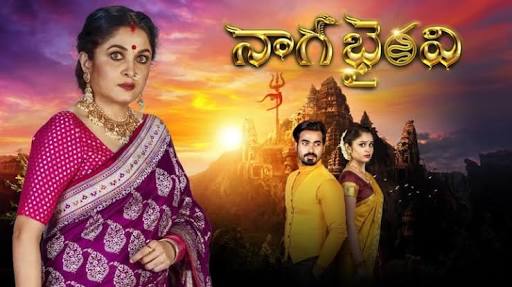 Naga Bhairavi Upcoming Story, Spoilers, Latest Gossip, Future Story, Latest News and Upcoming Twist, on Justhowbiz.net
Episode starts with Aditya runs inside home beating Veerabhadram men. Bujji signs his Dad arrival to Kaushalya. Veerabhadram gets shocked with Aditya arrival. Annapurna and Kaushalya feels happy. Jalaja asks Rudra to tie the Mangalsutra. Aditya shouts at him. Bhairavi throws Mangalsutra and gets up from Mandap. Jalaja warns Bhairavi to marry her son. Bhairavi slaps Jalaja and warns her to stay in limits than she goes to her brother happily. Kaushalya hugs Aditya happily. Veerabhadram drags Bhairavi towards Mandap and he asks Rudra to tie the Mangalsutra. Aditya throws Mangalsutra than he beats Rudra and Veerabhadram. Jalaja gets shocked.
Bhairavi hugs Aditya in tears. Aditya asks her to tell what happened. Bhairavi tells him how Veerabhadram threatened her to marry Rudra by Kidnapping him. Aditya gets angry. Bujji regains his voice and everyone happily hugs Aditya. Kaushalya tells him how Bujji regain his voice after seeing him. Veerabhadram felt tensed thinking what if Bujji reveals the truth. Annapurna complains to Aditya about Veerabhadram and Jalaja. Aditya says he came to teach them a lesson. Village heads reaches to Annapurna place and they gets shocked seeing Aditya and asks if he is really alive. Aditya tells them how Veerabhadram Kidnapped him with help of other lady. Bhairavi tells them how Veerabhadram framed Aditya death to fool everyone and how he forced her to marry his son by threatening to kill her family. Village heads scolds Veerabhadram than he tells them he didn't do any mistake. Aditya says shut up, isnt it crime to kidnap me and frame my death? You even threatened to kill my family members and your death is correct punishment to you then he tries to hit Veerabhadram with rod but Annapurna stops him.
Annapurna asks Veerabhadram to leave from her place with his son and wife. Veerabhadram leaves from home. Village heads says we came here seeing some goons are attacking someone, is it you. Aditya says yes and Veerabhadram even tried to kill me with his men. Village heads leaves from home. Aditya asks why his Dad is silent when Veerabhadram and Jalaja are doing crimes. Annapurna shows him the Krishnam Naidu photo with Garland. Aditya breaksdown near his Dad photo and he asks how it happened. Bhairavi tells him their Dad is died because of snake bite. Aditya questions why their family goddess harm them. Annapurna says we are not getting what happened. Bujji tries to tell the the truth but he stops reminscing Veerabhadram warning. Aditya cries seeing his Dad photo. Annapurna says glad you came at correct time to save your Sister life. Bhairavi hugs her brother.
Nagulu/ Phanidra lost his conscious because of his head injury happened during his fight with Arjun. Malli reaches to Nagulu and tries to wake him up than she gets shocked after noticing the blood coming from his head and she begs him to wakeup for her than she angrily thinks someone hurted my Bava who's that person? Than she changes to big snake form and searches every side in the jungle,she couldn't found anyone than she changes to her Nagini form and asks Nagulu to open his eyes. Snakes reaches near Malli and Nagulu.
Episode ends.