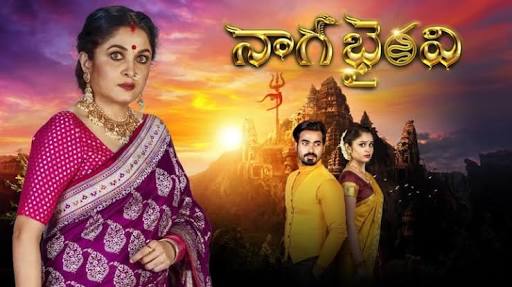 Naga Bhairavi Upcoming Story, Spoilers, Latest Gossip, Future Story, Latest News and Upcoming Twist, on Justhowbiz.net
Episode starts with Shakuntala gains her consciousness which makes her family members happy. Shakuntala asks when we reached to home? We went to Nagavaram for your engagement and their was some issue happened and I lost my conscious than what happened next? How's Bhairavi. Arjun says don't worry about Bhairavi because she is safe at her place. Shakuntala thinks about Nagamma warning that she will kill her son to take revenge than she asks if Arjun is fine. Arjun says he is fine. Sanvi asks her to be cool leaving everything. Shakuntala asks how to leave? Tell me what happened at that place. Sarath says stress is not good for you so take rest. Shakuntala insists them to tell what happened at Nagavaram.
Arjun says you lost consciousness that's why engagement gets halted so don't worry and another good news is Aditya Bava is alive. Shakuntala feels happy and asks if it's true. Sarath says true, your Mom informed me that your nephew Aditya is alive and he reached to home at correct time and stopped the Rudra marriage with Bhairavi than he thrown out Veerabhadram's family from home. Sanvi thinks what's her position if Aditya reveals truth of her to family. Shakuntala says she want to see Aditya immediately and she requests Arjun to take her to Nagavaram. Sanvi says journey is not good for her at this situation. Shakuntala won't listen her words and says let's go to Nagavaram, noone is their is stop your marriage with Bhairavi. Everyone agrees. Sanvi thinks it's risky of Aditya caught her than she tells to her Mom that she have an important meeting. Family members asks her to postpone the meeting and they gets ready to leave Nagavaram.
Arjun goes out and reminsces his fight with Nagulu and thinks Nagulu might get hurt. NagRaj and NagRani asks what happened to Nagulu. Malli says don't know, Nagulu is my life and I can't live without him. NagRani says we never expected this situation will came to you. Malli says she can't live without her Bava and she beats her head to stone. NagRaj and NagRani stops her. Malli says I'm not lucky to live with Nagulu so don't stop me to end my life and it's promise on me so don't stop me than she hurts herself by beating her head to stone. NagRaj and NagRani looks helpless and they requests her to stop but she won't listen and fell unconscious.
Shivalingam comesout from earth and heals Malli(Nagini) condition than Shivalingam says you can't bring your Nagulu life by ending your life. Malli says I know it but I can't live without Nagulu so kill me. Voice from Shivalingam says noone can change the fate, your Nagulu is not dead, he went to deep sleep because of the wound and it's tough to come out from his state but you can heal him with your Sankalpam so try to find solution to your problem by yourself and save your Nagulu than Shivalingam goes under earth. Everyone chants om namahshivaya mantra. Naga guruvu says their is one way to make him come out from his Deep sleep. Nagini asks him to tell what's that way. Naga guru opens Nagulu eyes and tells to Malli that your Bava fought to save Sanjivani Mani but one human took that Mani.
Episode ends.