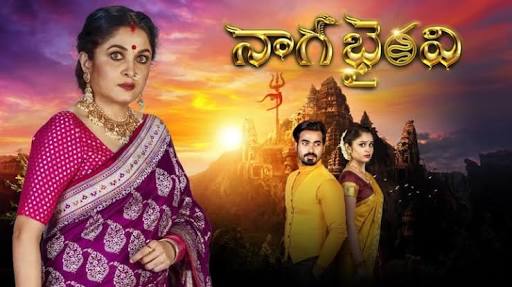 Naga Bhairavi Upcoming Story, Spoilers, Latest Gossip, Future Story, Latest News and Upcoming Twist, on Justhowbiz.net
Episode starts with Arjun says he won't go anywhere leaving the home. Veerabhadram says this village people won't allow you to stay here because your family is banished from our village and Mom in law if Arjun stays with us than this village people may banish us too. Annapurna says how can he leave in the night time. Jalaja says he bought Bhairavi to home in the night only so he can easily leave plus noone can stay with us at this time because we are having mylu so ask him to leave. Annapurna asks Arjun to leave. Jalaja says leave immediately. Arjun says take care of Bhairavi and he leaves from that place. Veerabhadram closes the door.
Someone knocks the door. Veerabhadram opens the door, it turned to be pandit. Annapurna asks why Pandit came to home in the night time. Veerabhadram says pandit came to perform Rudra marriage with Bhairavi because I sensed that you want to marry Bhairavi with Arjun. Annapurna says how can he decide without her permission. Veerabhadram says I'm the one who have to take decisions of this house because your son is died.
Kaushalya says take Bhairavi opinion. Jalaja shouts at Kaushalya. Annapurna asks how can they force their decisions on them. Veerabhadram says until now you guys see us like servants but from now onwards you have to do like what I said and Bhairavi have Pranagandam and it's Krishna wish to get her married that's why I'm fulfilling his wish by marrying her with Rudra. Veerabhadram asks Pandit to set muhurtam with in 24hours. Pandit says tomorrow 10am muhurtam is good. Veerabhadram agrees for that muhurtam and asks Pandit to come at that time.
Annapurna says she won't let them perform this marriage. Jalaja and Veerabhadram forcefully drags Annapurna to room. Annapurna shouts for Bhairavi but Jalaja and Veerabhadram locks Annapurna in a room. Annapurna shouts to open the door and she cries badly. Sanvi says who bitten Bhairavi when these 2snakes are with us, so their are many snakes left. Veerabhadram says that snake bite increased the bond between Arjun and Bhairavi than how can she marry my Son. Sanvi and Vishwambari says don't worry, we can get Bhairavi married to your son.
Zarina and Kaushalya meets Annapurna through window and tells her that they locked the room and Zarina says she will open it by breaking the lock with rod. Annapurna says don't do it, now we have to save Bhairavi so get the phone I will call Arjun. Kaushalya brings the phone. Annapurna calls Arjun and asks him to come to their home in the early morning with his parents. Arjun asks why. Annapurna says I don't have time to explain so do what I said, she cuts the call and contacts Shakuntala. Shakuntala feels emotional listening her Mom voice after many days.
Precap – Arjun stops Bhairavi marriage with Rudra.