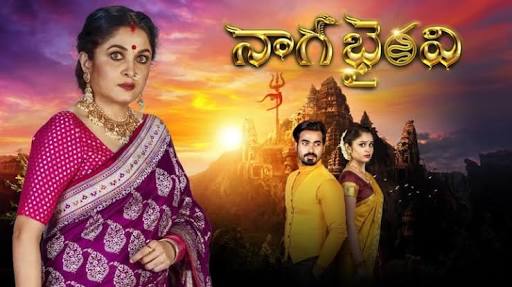 Naga Bhairavi Upcoming Story, Spoilers, Latest Gossip, Future Story, Latest News and Upcoming Twist, on Justhowbiz.net
The episode starts with Jalaja mocks Kaushalya. Bhairavi gets angry and shouts at Jalaja saying you're not feeling bad that my brother is died and you don't even have curtosy to console people who are in pain, when snake put Kumkum my Brother is alive so my Sister in law is Soubagyavati, what kind of birth you have? Aren't you to woman to understand this pain. Veerabhadram supports Bhairavi and raises his hand at her wife. Jalaja gets stunned and goes inside. Veerabhadram thinks he raised his hand to save his wife and he asks everyone to forgive his wife.
At night Phanidra tells to Malli that he felt bad for Bhairavi and her family and they make take long time to overcome this pain, console them with your words Malli. Malli says it's tough to answer their questions and their trust and respect on family goddess is gone and they are thinking Aditya died with snake bite. Phanidra says enemies killed Aditya to create suspicion on Snakes in people. Malli says might be. Phanidra says that house people have good relationship with our snakes thats why Snake around Lord Shiva came to put Kumkum on Kaushalya face plus last night we guarded temple and noone tried to enter temple and we didn't killed anyone and they killed Aditya somewhere and throw him at temple stair case to make everyone doubt us and we have to know who did it.
At night Bhairavi hears Sodamma voice and she comes out and questions what kind of lies she wants to tell her again. Sodamma asks what she did. Bhairavi says I did like you said to but my Brother reached to home as corpse, tell me me how my brother died. Sodamma says you will find the truth with time and you have to face hurdles for it. Bhairavi says my brother is dead, isn't it correct? How can you play with our feelings for money. Sodamma says your anger is valid but I came here to tell you one good thing to cool you. Bhairavi says I won't believe you again and you can't room me again. Sodamma asks her to listen to her words once. Bhairavi shouts at her to leave from home.
Sodamma says I will go after telling you something, upcoming days are tough for you so you have to be strong to face them. Bhairavi says don't try to scare me with your words. Sodamma says I came to help you, that Sasta graha Kutami will make you lost your important things. Bhairavi says will she also die. Sodamma says don't say inauspicious words, loss is to your father so take care of him for 3days and don't allow him to leave house in these 3days and tie this Goddess Raksha to him and it will save your Dad. Bhairavi throws that Taweez saying she don't need her or her Raksha and asks her to leave immediately, Bhairavi wakesup from her bed and thinks why she got this kind of dream.
Sanvi disturbs Vishwabari Dhyanam even though Veerabhadram tries to stop her. Vishwambari wakesup. Sanvi asks what's your next plan because I don't have time. Vishwambari angrily says don't teach me what to do, I make Bhairavi family doubt their family goddess and now I will remove courage from Bhairavi killing her Dad so she will listen to our words.