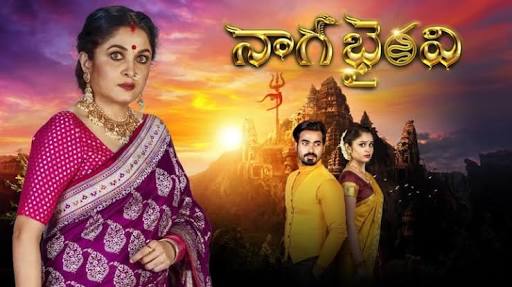 Naga Bhairavi Upcoming Story, Spoilers, Latest Gossip, Future Story, Latest News and Upcoming Twist, on Justhowbiz.net
Episode starts with Krishnam Naidu thinks about something and he calls his Mom. Annapurna asks him what's the matter. Krishna tells her that he wants to perform Bhairavi marriage and asks her to tell about her opinion. Everyone gets stunned hearing his words. Annapurna says what's the need of marriage at this time, why are you asking me in this way. Jalaja says mom is right, everyone thinks that we are mad to perform Bhairavi marriage at this time.
Krishna says I don't care what others think, according to Sastra we can perform daughter marriage and Kanyadaan is good at this time so I won't care about others. Jalaja asks why he is so eager for marriage. Krishna says it's needed. Jalaja says we don't feel it's needed. Krishna says someone entered to our home and one day someone tried to snatch Joli from Bhairavi and than gas explosion attack, yesterday my son is died because of something so I'm scared thinking what more might happen to us that's why I want to perform marriage to Bhairavi according to Yogi Shivudu advice.
Annapurna says you're right son, so do it. Jalaja says why you're supporting him Mom, won't you know that he can't do Kanyadanam and our Aditya is no more, who will do her Kanyadanam? Krishna says I don't need your advice and if noone is helping me to do Kanyadanam than I will do register marriage. Jalaja says don't get angry brother, I'm just questioning you thinking what others might think and who will marry Bhairavi at this time. Krishna says thanks for your care, Arjun likes Bhairavi and he will marry her. Annapurna asks him to take Bhairavi opinion also. Krishna says Bhairavi won't deny my request, last time she denied for marriage thinking Aditya will do her Kanyadanam but our Aditya is no more and this marriage is important for Bhairavi life, he goes out.
Bhairavi remembers Sodamma words. Zarina consoles Kaushalya. While cleaning worker gets the Taweez and she shows that to Bhairavi, Bhairavi gets shocked seeing that Taweez and she takes it and runs out to her Dad and hugs him in tears. Krishna consoles her saying your brother won't return to us. Bhairavi ties Taweez to his hand. Krishna asks why is she tying Taweez to him. Bhairavi asks him to don't go outside for 3days. Krishna asks if he die like her brother if he goes out. Bhairavi says Dad. Annapurna says she is already scared ,don't make her tensed. Krishna promises her that he don't go anywhere without informing her. Annapurna takes Bhairavi inside.
Krishna goes to meet Arjun and tells Bhairavi denied to marry you thinking her Brother will do her Kanyadanam but he is no more so please marry my daughter. Arjun asks why he is talking about marriage at this kind of situation. Krishna says don't know who killed my son and who attacked my daughter and that's why I want to perform Bhairavi marriage before something happens to me, will you marry my daughter.
Arjun says let's talk after Aditya Karma day. Krishna says I'm scared thinking what happens in these 11days, you have to come to my son position after marrying Bhairavi that's why I'm requesting to marry my daughter to save her from Pranagandam and bring you parents if you like Bhairavi and I will talk to them. Arjun agrees to bring his parents.