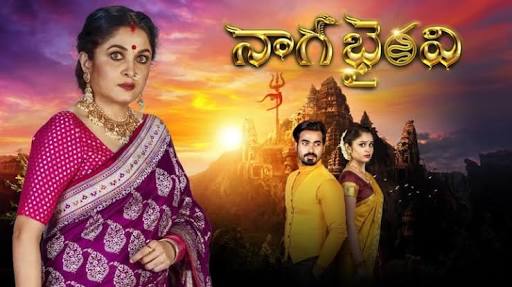 Naga Bhairavi Upcoming Story, Spoilers, Latest Gossip, Future Story, Latest News and Upcoming Twist, on Justhowbiz.net
Episode starts with Krishnam Naidu asks Arjun to bring his parents immediately if he likes their Bhairavi. Arjun agrees to bring his parents and wants to tell this to Bhairavi. Krishna says don't worry about Bhairavi, I will talk with her so get your parents. Arjun agrees.
Jalaja angrily sits in her room. Veerabhadram asks what happened. Jalaja says your brother in law decided to marry Bhairavi to Arjun, wish Arjun die like Aditya. Veerabhadram says Your brother brings another Groom if Arjun dies so person who must die is your brother. Jalaja holds his collar and asks what he said. Veerabhadram says it's just tongue slip. Jalaja says it will be good if he die than we can get everything but how it happens? Veerabhadram says Maata can do it. Jalaja asks who's she. Veerabhadram says she is magical Amma.
Pandit makes Bujji performs the Karma at chinaroju. everyone cries seeing it. Bhairavi cries reminscing how she stopped this when she returned from foreign and she hugs Annapurna in pain. Annapurna consoles her. Bhairavi blames herself for creating hopes in family members and it's like I came from foreign to wound your heart again and she asks her Dad to forgive her. Annapurna asks her to don't get. Krishna says let her cry until her pain gets soothened. Pandit asks Krishna near them and asks them to feed Pindam to cow. Krishna goes to our with Bujji.
Bhairavi reminsces Sodamma words and stops get Dad asking him to don't go anywhere leaving home. Krishna says he is going to feed Pindam to Cow. Bhairavi says I don't know anything but you can't go out in these 3 days. Annapurna asks Krishna to listen Bhairavi words. Krishna asks villagers to take Bujji and goes inside with Bhairavi. Veerabhadram thinks Bhairavi can't save you Brother in law.
Arjun goes to Krishna and informs him that he is going home to get his parents. Krishna thanks him. Arjun says don't thank me sir, I'm doing this for myself too. Annapurna asks him to get his parents day after tomorrow only because that day is good. Arjun agrees than he searches for Bhairavi. Annapurna asks are you searching for Bhairavi? Can I call her. Arjun says no need and goes out. Annapurna tells to Krishna that Bhairavi is lucky to get Arjun.
Bhairavi notices through window that Arjun is going with bag and thinks where is he going and she runs out. Malli notice this and goes out. Arjun about to cross the gate but Bhairavi calls him. Arjun feels happy after seeing her. Bhairavi runs to him and asks where is he going. Arjun says I'm going to home. Bhairavi says My family can't give courage to me like you do but now you also leaving me. Arjun thinks he can never leave her and tells that he gonna return in one day, I don't want to leave you even for a day but I'm going for our goodness. Bhairavi says every good changing to bad and I lost my courage in this fear. Arjun asks her to be strong. Malli tells him that she gonna protect Bhairavi until he returns.