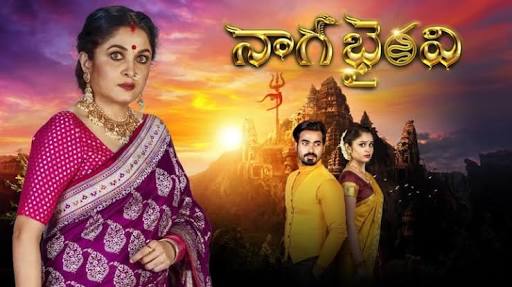 Naga Bhairavi Upcoming Story, Spoilers, Latest Gossip, Future Story, Latest News and Upcoming Twist, on Justhowbiz.net
Episode starts with Arjun says he is going for everyone's goodness. Bhairavi says whenever we thought good it's changing to bad and I lost my courage in fear. Arjun asks her to stay strong. Malli tells to Arjun that she will take care of Bhairavi until he returns. Arjun goes in his car.
Bhairavi feels sad and notices letter in Arjun tent and goes to read it and he asks forgiveness from Bhairavi for agreeing to marry her in the first time without asking her opinion and now your Dad again asked me that's why going to get my parents but I can't hurt you bringing my parents without your consent that's why I'm writing this letter to know your opinion and if you likes to marry me than message me yes otherwise it's no and I respect your decision.
Arjun stops at temple and prays to NagDevata saying i know God will never harm anyone but Krishnam Naidu and family is doubting you because they are unable to bear the recent happenings, you're their family goddess so forgive them understanding their pain and you have to protect Bhairavi and her family until I return to village. Phanidra hears everything.
Krishnam Naidu calls Bhairavi and she hides the Arjun letter. Bhairavi asks what's the matter. Krishna says parents always think for their kids wellbeing, I already lost your brother and I can't lose you for your Pranagandam so getting you married is essential and I'm getting scared thinking what if something happens to me. Bhairavi asks Das why are you saying in this way. Krishna says Arjun is good guy and you will be happy with him and if you dont like Arjun than I will search another match for you. Bhairavi goes inside saying Arjun is good. Annapurna says Bhairavi is girl that's why expressed her opinion indirectly. Krishna smiles.
Phanidra and Malli meets in the night time. Malli says I came here to tell you good news Bava. Phanidra says Arjun came to Anthill and prayed to save Bhairavi and her family until he returns but why he is leaving that family at this time. Malli says Krishnam Naidu is planning for Arjun and Bhairavi marriage that's why he is going to get his parents.
Phanidra says it's good but upcoming days are Sasta Kutami where evil power is more than God power so those bad people may tries to harm Bhairavi and her family. Bhairavi asks him is it that bad. Phanidra says yes and witches can do anything on that day and it's better if we call him back, what to do. Malli says don't worry Arjun will return in 2days and Lord Shiva will save their family.
Vishwambari tells to Sanvi about her plan. Sanvi feels happy. Veerabhadram goes to Vishwambari and tells that Krishna is planning his daughter marriage with another guy so please kill Krishnam Naidu. Vishwambari asks him to kill Krishnam Naidu by himself. Veerabhadram feels tensed saying he can't do it. Vishwambari says we are behind you and on Sasta Graha Kutami my energy will be doubled and that day God even can't stop me so it's the day we gonna kill Krishnam Naidu.
Veerabhadram tells her how Malli is scaring him to kill if he expose her truth. Vishwambari gives him Taweez and assures him that Nagini can't do anything to h when he have this Taweez. Veerabhadram goes happily. Sanvi says so you make him ready for our work. Vishwambari says yes. Veerabhadram goes to home and locks the door. Malli returns to home and founds it's locked.