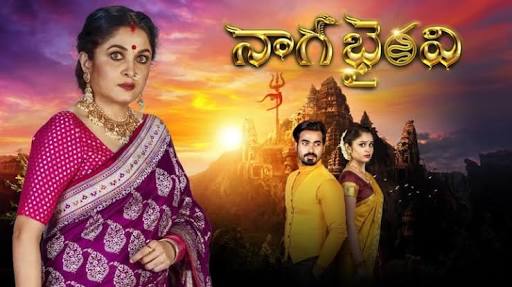 Naga Bhairavi Upcoming Story, Spoilers, Latest Gossip, Future Story, Latest News and Upcoming Twist, on Justhowbiz.net
Episode starts with Malli notices door is locked. Veerabhadram we.ses someone is trying to open the door. Malli changes in her snake form and enters inside through window. Veerabhadram notices Malli when she is entering inside and smiles seeing her and questions where you went in the midnight? To romance with your lover or for eating frogs? Malli gets angry. Veerabhadram says I won't get scared seeing you anymore and will inform to family members that you're snake. Malli says I will kill you before you tries to open your mouth and she changes to her Snake Avatar.
Veerabhadram shows his Taweez. Eagle from that Taweez attacks Malli which makes her helpless. Veerabhadram wickedly smiles seeing her and tells her that you can't do anything to me but I can kill you and send you from here but I didn't do it because my aim is to kill big fish not small one like you so be careful from nowonwards. Malli thinks who's that big fish he wants to kill? Someone is behind him that's why he is not getting scared and tied Farida Bandam to stop me, wish Arjun is here.
Worker gives tablets to Shakuntala. Arjun reaches to home and thinks how to tell his mother than he decides to hide the place and Family from his mother until he takes them to Nagavaram. Everyone feels happy seeing Arjun. Arjun hugs his Mom. Shakuntala asks why he didn't inform them that he is coming. Arjun says it's surprise and he happily wishes his Dad and Brother in law. They asks Arjun about his trip. Arjun says it's good. Arjun mother in law tells him that his mother is missing him. Arjun says it's mother's love. Shakuntala says why I feel you want to tell us something for us. Arjun says true. His dad and brother in law asks if it's about business.
Shakuntala says it's not business, did you came here after setting Muhurta for marriage or want us to see Good Muhurta for it. Arjun asks how she knows it. Shakuntala says I'm your Mom so I can read your emotions easily and who's that girl. Arjun thinks about his mom convo with Krishnam Naidu and stays silent. Arjun Dad asks what's their place. Arjun thinks Mom might deny if I tell her that place is Nagavaram. Arjun mom in law says maybe that girl is from different community.
Shakuntala says your happiness matters to me Arjun so I will get you married to your love. Arjun thanks his Mom. His Dad asks about Girl and her family detail. Arjun says I will take you guys to their place and don't want to reveal about their details because it's surprise. Shakuntala agrees saying fine. Arjun goes to freshen up. Shakuntala thinks who might be the girl.
At night Arjun enjoys the weather and wishes to have Bhairavi with him. That time Bhairavi comes to him and questions why he called her. Arjun says weather is good that's why called you to share my feeling. Bhairavi angrily asks what feelings. Arjun says don't feel angry and asks her what she feels seeing beautiful weather. Bhairavi asks him to tell his feeling. Arjun expresses his feelings while showing the moon.