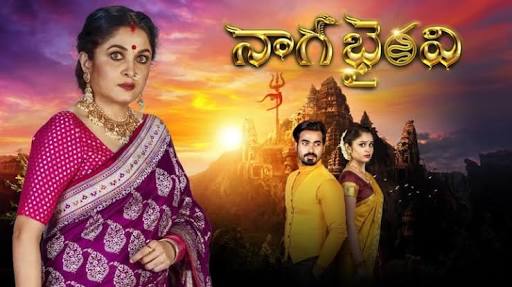 Naga Bhairavi Upcoming Story, Spoilers, Latest Gossip, Future Story, Latest News and Upcoming Twist, on Justhowbiz.net
The episode starts with everyone reaches near Goldsmith deadbody. Krishnam Naidu asks how it happens. Villagers says don't know. Krishnam Naidu says snake bitten him, why he came out without staying at home. Veera Badram says maybe he tried to do wrong work that's why snake might killed him.
Villager says that he heard Brahmaji shouting to save him, it's prohibited to roam outside in Pournami that's why some force might killed him. Krishnam Naidu says let's think about cause later and he asks his brother in law to arrange for last rites and leaves. Bhairavi remembers Goldsmith words saying it's special bracelet of snake to protect from evil forces. Zarina asks what to do. Bhairavi says don't know what's happening but I feel like I might get caught to my family. Krishnam Naidu calls Bhairavi than they leaves from that place.
NagArjun mother and family gets worried for him and thinks what happened to his phone. Family tries to console her but NagArjun mother cries for her son. Sam assures nothing will happen to him. Her mom says it's because of your scoldings he went to get the laptop and while he is going bad omen happened so im getting tensed feeling he might be in some danger. Sam assures everything will be fine and asks her to have tablets for Arjun. Her Mom agrees.
Krishnam Naidu asks NagArjun go enter home after doing the bath saying it's not advisable to go inside when they are coming from seeing dead body. Veera Badram and his wife mocks him. NagArjun says he don't have other pair of clothes and can't wear others clothes. Annapurna asks him to wear his clothes after bath sprinkling some turmeric water on them and she asks Bhairavi to show the bathroom. Bhairavi feels irritated but takes him to back. Bujji asks why you send them alone. Annapurna says to know what happens between them we have to do these things and she asks Bujji to spy on them.
Sam tries Arjun number and thinks why he switched of the number. Pandit reaches to Krishnam Naidu place and informs them that this year Rahu and Kethu Dosham is higher. Krishnam Naidu asks for remedy. Pandit says it's advisable to not leave from this place and outsiders must not enter to this village for 5more days. Veera Badram asks why this new changes. Pandit says this year affect is more that's why I came to inform this matter. Krishnam Naidu asks Veerabhadram to announce this matter in whole village.
NagArjun says he is leaving but Krishnam Naidu asks him to stay at their place for 5more days otherwise it's danger. NagArjun says don't know why you guys are behaving in this way, I might get losses if I didn't reach to my place. Krishnam Naidu says we can't link this matter with money. Arjun says your family and relatives and village people must follow your rules but I'm outsider so don't asks me to follow these traditions. Krishnam Naidu says you're staying at my village so you have to follow our orders.
NagArjun about to leave but Krishnam Naidu warns him to give punishment if he deny his orders and he calls someone to come to their place to see their guest and leaves. NagArjun asks Annapurna to tell her son. Annapurna asks him to stay for 4days and says he might face problems if he left during Pournami time. Zarina asks him to stay.
Bhairavi says he is trying to flirt with me. Zarina says go from here. Annapurna stops him and asks him to enjoy the beauty of Village and go from here after seeing the jathara on Pournami time and goes to kitchen. NagArjun thinks I didn't know that I might get strucked here otherwise I may never come to this place. NagArjun says he gonna stay for 5days.
Jalaja asks Annapurna to send NagArjun to someone's house saying they have ladies at home. Annapurna asks why she got these kind of thoughts and sends her out.
Sam dreams that some snake bitten her and gets tensed thinking whether her Mom is correct regarding NagArjun is strucked in some danger because Arjun used to get snake dreams, now I got these dream, whether it's indicating any danger, than she calls police to trace Arjun number last location without filing complaint.