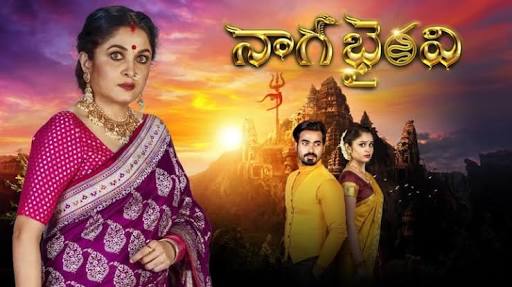 Naga Bhairavi Upcoming Story, Spoilers, Latest Gossip, Future Story, Latest News and Upcoming Twist, on Justhowbiz.net
Episode starts with Bhairavi asks him to tell what he feels. Arjun explains the beauty of weather in ancient times language. Bhairavi asks in which language he is talking. Arjun explains her in Telugu. Bhairavi says what kind of nonsense. Arjun says you don't have poetic and romantic sense it's really badluck.
Bhairavi says i have common sense to know your feelings, through this poetic lines you're expressing your love right? Love can be expressed in one word and these poetic lines are not needed. Arjun immediately tells her that he loves him. Bhairavi asks why you took so long to tell these words, I love you and she hugs him happily and asks him tell her again that he lives her. Arjun says it's mantra I used to chant everyday and he repeatedly says I love you and wakes up from his dream.
Arjun notices his Mom in his room and asks when she came to his room. Shakuntala says don't dream, we are going to talk with them about your marriage and because your dream I got to know the girl name is Bhairavi, don't worry I will get you married very soon. Arjun asks if she hides any bad past incident from him.
Shakuntala looks on and asks why he is asking her in that way. Shakuntala says their is nothing and asks him to get ready soon and she goes out with Kanakam help. Arjun happily thinks about his dream than he thinks Bhairavi didn't messaged me so she is not interested in this marriage. Bhairavi message him. Arjun notices yes message from Bhairavi, he feels excited and happily kisses his mobile.
Sanvi calls Arjun. He goes to meet her and asks when she returned. Sanvi says I returned when you're sleeping, you went for research purpose or love purpose? Arjun thinks so Sanvi found it that I went to Nagavaram. Everyone questions if he didn't went to Zombia. Arjun says nothing.
Sanvi says Mom told me about love matter that's why I asked you in that way, you're with your lover during your camp right? Arjun looks confused. Shakuntala and Arjun Dad says your sister knows everything than why you told us it's surprise, they asks Sanvi to tell them. Sanvi says they may dream like they are together so it means they are living together right. Family says you mean in this way. His Dad asks why he looks tensed.
Sanvi says he lied to us that's why feeling tensed. Shakuntala asks why she us saying in this way. Sanvi says until now he didn't tell anyone that means he lied to us right and seems like youre badly wounded. Shakuntala worriedly asks if he is hurt. Arjun says nothing. Sanvi says love is blind so getting wounds are common. Shakuntala asks Sanvi to stop her teasing. Everyone smiles. Arjun asks Sanvi to don't tease him and he happily hugs her.
Shakuntala checks jewellery and asks Arjun which one is good. Arjun chooses necklace for her. Shakuntala says im asking which one is best for Bhairavi because I didn't saw her so tell me how she looks. Arjun thinks don't know hows Bhairavi. Shakuntala asks where you lost when I'm thinking about the girl. Sanvi comes to them and tells your Son liked Nagavaram beauty that's why he is lost.
Arjun and Shakuntala gets shocked. Arjun thinks how Sanvi knows about Nagavaram. Shakuntala says Nagavaram? What do you mean. Sanvi says I told that your son is NagArjuna but you heard it like NagArjun. Arjun thinks why Sanvi covered it, did she found that I went to Nagavaram.